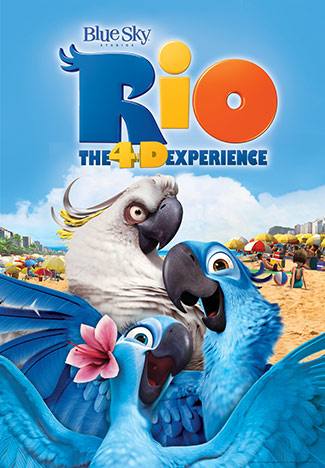 ROYAL OAK — Detroit Zoo visitors can journey to Rio de Janeiro or travel back in time to ancient lands and seas with three films at the Wild Adventure Zone, located in the Ford Education Center. Rio: The 4-D Experience and Sea Monsters: A Prehistoric Adventure 4-D at the 4-D Theater and Ice Age: Dawn of the Dinosaurs – The Ride at the Simulator Ride hit screens April 1.
Rio: The 4-D Experience makes its return engagement to the 4-D Theater. The 15-minute film follows the last blue macaws on Earth, Blu and Jewel, as they are chased and captured by evil cockatoo Nigel. This unexpected duo takes viewers on a thrilling 4-D journey through Rio de Janeiro as they find courage, friendship and maybe even love along the way.
Making its debut at the 4-D Theater is Sea Monsters: A Prehistoric Adventure 4-D. The 15-minute experience takes audiences back 82 million years for a look at the sea's most dangerous predators. The film explores a breathtaking underwater world as ferocious creatures swim and slink their way through life while trying to win the epic fight for survival.
The prehistoric adventure continues at the Simulator Ride with Ice Age: Dawn of the Dinosaurs – The Ride. The sub-zero heroes from the worldwide blockbuster venture into a mysterious underground world after Sid the sloth stumbles across three abandoned eggs and decides to raise them as his own. Once the eggs hatch, chaos ensues in the lost world of the dinosaurs. The 15-minute experience is voiced by an all-star cast, including Ray Romano, John Leguizamo, Denis Leary and Queen Latifah.
The 126-seat 4-D Theater delivers high-definition viewing in 3-D with 7.1 digital audio surround sound. The experience features a variety of sensory surprises built into the seats and theater environment, bringing on-screen images to life with 4-D effects such as mist, scents, back pokers, leg ticklers and seat vibrations. Some 4-D effects may be too intense for children 5 years and under; parental discretion is advised.
The 30-seat Simulator Ride is an educational, action-packed thrill ride which offers a you-are-there experience from the comfort of a specially equipped, motion-simulated cabin. Passengers must be at least 36 inches tall, and it is recommended that they be at least 5 years or older.
Tickets for both experiences are $5 with Detroit Zoo admission and are available at main admissions, the Wild Adventure Zone ticket booth or online. Click on Attractions at detroitzoo.org for the most up-to-date information and movie times.
---