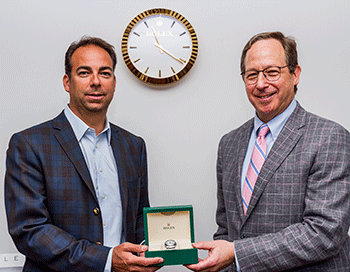 BIRMIGHGAM — Anthony Galbo, owner of American Specialty Oil Co. in Livonia, today was presented with a Rolex Oyster-Perpetual Chronometer; a prize for hitting a hole-in-one at the Lochmoor Golf Club in Grosse Pointe Woods during an outing July 22 sponsored by DBusiness magazine. The event was held to benefit the Detroit Dog Rescue.
Galbo says it was his second hole-in-one that day. He hit his first ever hole-in-one earlier on an 88-yard, par 3, Hole No. 16. The watch winning hole-in-one was on a shortened par 4 (for the contest) Hole No. 9. He used a 6-iron on both aces.
The watch was presented by Robert Greenstone of Greenstone's Fine Jewelry in Birmingham and sponsor of the DBusiness' hole-in-one contest along with the Golf Association of Michigan.
 
Facebook Comments