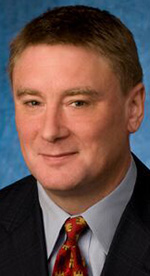 Beaumont Health has named John Kerndl as its new executive vice president and CFO. He will join the executive leadership team on Dec. 12 and will work from the company's headquarters in Southfield.
As CFO, Kerndl will oversee all financial functions and the development and execution of financial policies and strategies for Beaumont Health. His areas of responsibility will include financial reporting and analysis; accounting and revenue cycle activity; financial system and internal controls; strategic investments and investor financial relations; and accounts payable treasury, budgeting and forecasting, project financing, and financial strategic planning.
He is currently the senior vice president and operations CFO for health care company Life Point Health in Brentwood, Tenn. From 2007 to 2010, he served in CFO and regional vice president roles for three Arizona hospitals as part of Vanguard Health Systems.
Kerndl, who will relocate to metro Detroit from Brentwood, Tenn., earned his Masters of Business Administration in finance and health care administration from the University of Chicago and a bachelor's degree in finance from Georgia State University.
Facebook Comments