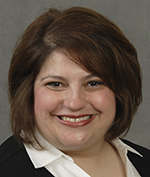 Krista Newman has been promoted to the dual role of director of business integration and contact center at Arbor Hospice & Palliative Care, an Ann-Arbor based center affiliated with Hospice of Michigan providing in-home hospice care throughout southeast Michigan.
Newman will lead the contact center and be responsible for the intake and triage functions across the affiliated organizations.
Previously, Newman worked at Arbor Hospice & Palliative Care as director of business operations and information technology.
Newman, of Ypsilanti, earned her Bachelor of Business Administration from Eastern Michigan University and Master of Business Administration from the University of Michigan. 
Facebook Comments