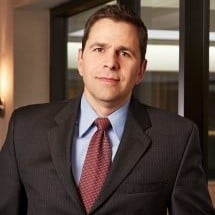 Altior Law, a Birmingham-based commercial litigation firm, has announced David Mollicone has joined its shareholder group.
Mollicone joins Altior with over 2 decades of experience in corporate and commercial law. He practices in commercial and corporate litigation, banking litigation, creditors' rights, real estate litigation, employment law and environmental litigation. He has represented clients in all stages of litigation through trial and appeal across a variety of matters in state and federal courts across the Midwest.
"I'm impressed with the Altior team and the culture they've built at the firm," says Mollicone. "The post- pandemic environment is sure to create new legal challenges for businesses, and I'm excited for our team to lead our clients into this new territory."
He joins Ken Nueman, Jennifer Grieco, Steve McKenney, and Matt Smith as Altior shareholders. Altior Law is a boutique firm made up of business lawyers who are also businesspeople. In addition to its core commercial litigation and mediation practice, the firm is the founding sponsor of Peak Law, an organization that supports projects aimed at using law to improve the world.
Facebook Comments