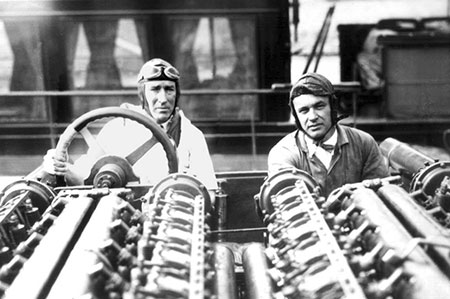 Boat racer Gar Wood had just set a record of 124.9 miles per hour on the St. Clair River when a Detroit Free Press reporter asked the obvious question: How did it feel? Unable to find words, Wood instead decided to do some showboating. He invited the newsman, W.W. Edgar, to put on a linen helmet and join him. They roared away from the dock. "It seemed as though Miss America X was pulling the entire river after her," Edgar wrote on Sept. 20, 1932. "There were two mountains of foam."
Whether on the St. Clair River course or anywhere else, Wood was nearly invincible in match races and speed trials. From 1917 until his retirement from racing in 1933, he repeatedly won the Gold Cup and reclaimed and defended the British International (Harmsworth) Trophy for the United States. If circumstances caused matches to be canceled, he still made a demonstration run to wow the gathered crowd. 
Wood's early fame was magnified in 1921. That year, he bested the Havana Special, skimming 1,250 miles over the ocean between Miami and New York in 47 hours, 23 minutes — narrowly ahead of the express train on its tracks. 
Wood's development of racing boats opened the way for the recreational marine industry's growth, and also benefited the advances of the U.S. Navy's PT boats during World War II. "I guess it was Miss America X that was the mother of them," he told Edgar, who was on the scene again in 1943. "They're all offsprings from her." 
The press called Garfield Arthur Wood the Gray Fox of Algonac, and dubbed Miss America X a "madman's dream." The 38-footer's four Packard Liberty engines combined to generate 6,400 horsepower. Ever the savvy businessman, Wood had cornered the market on Liberty V-12s, buying 4,500 of them from the government after World War I. 
Born Dec. 4, 1880, in Mapleton, Iowa, Wood spent much of his boyhood on Minnesota's Lake Osakis, where his father operated a paddle-wheel ferry. Studying at Chicago's Armour Institute of Technology gave him a solid basic engineering education. His obsession with speed led to a 1905 lawsuit and a $60 judgment after he had taken the wheel of a Ford and run over a fox terrier. He earned a living in Duluth, Minn., by selling cars and teaching engineering. Meanwhile, he tinkered with his inventions.   
After developing a hydraulic mechanism for dump trucks, he moved to Detroit in 1913 and established Wood Hydraulic Hoist & Body Co. at 560 Franklin St., before moving to a new facility on Bellevue Street in 1915. The coming war in Europe would make him rich, and he would later turn over operations to his brothers. 
To get into racing, Wood bought Miss Detroit in 1916. He won every Gold Cup from 1917 through 1921. After his experiments with aviation engines in boats led to Gold Cup rule changes, he came up with the 33-foot Baby Gar. A New York dealer advocated commercial production, and thousands of Gar Wood runabouts and other models were manufactured before production ended in 1947. His early collaboration with Chris Smith was over in 1923, when Smith founded the now-famous Chris-Craft powerboats. 
By 1940, Wood had amassed a $50 million fortune. He owned a $70,000 twin-engine Grumman seaplane, and he and his wife, Murlen, had houses in Algonac, Georgian Bay, Florida, and Hawaii. Their 46-room Grayhaven mansion in Detroit was a society showplace for many years but was eventually sold. It burmed down in 1974 after being struck by lightening. 
Wood continued designing and experimenting throughout the 1940s. In 1949 he introduced the 120-ton Venturi; this futuristic twin-hull vessel sank off the Bahamas in 1954. At age 87, he claimed to have perfected a "commercially feasible" electric car. He passed away at age 90, a few days before a planned celebration in his honor in Detroit. It was the rare missed opportunity to play to the crowd. db
---