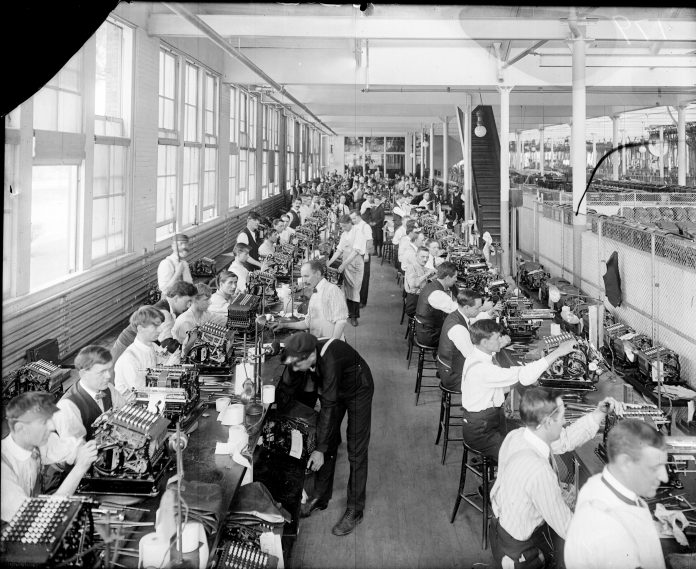 It was called Cadillaqua Week, and in the summer of 1912, it was intended to make Detroit the water sports capital of America. The four-day, $200,000 extravaganza held on the Detroit River celebrated the city's founding on July 24, 1701. There were boat races and swimming contests, and a carnival of 8,000 festively decorated canoes filled the river between Detroit and Windsor.
Concurrently, Burroughs Adding Machine Co. booked an entire floor of the Hotel Pontchartrain at Woodward and Cadillac Square for its "all-star convention." The company, first known as American Arithmometer, arrived in Detroit in 1904, trading in its constrained quarters in St. Louis for a big, airy factory.
With a market share north of 90 percent, some 135,000 adding machines were in service in the U.S. by 1910. A second Burroughs plant in England, meanwhile, manufactured machines that calculated British pounds, German marks, and French francs.
Burroughs' customers included banks, which purchased 20 percent of the output; the U.S. government; and major corporations. By 1919, with 12,000 employees worldwide, production reached 120,000 machines per year and revenue topped $30 million. All this came about because William Seward Burroughs, a tubercular bank clerk, wanted to "save the lives of thousands of accountants" by mechanizing their tallies and ending their midnight toils.
Burroughs, born in 1857, was employed at a bank in New York, but the long, monotonous grind of clerical work broke his health. A doctor recommended he move to St. Louis, where Burroughs learned the machinist's trade and studied engineering theory. The foundation stone of Burroughs' machine was the Pivotal Principle, which created minimal friction. By comparison, competitors — like English inventor Charles Babbage's mechanical computer — utilized sliding internal parts that wore down quickly.
In 1888, Burroughs was awarded the first-ever patent for a key-set recording and adding machine. Additional capital supported the perfection of the "Burroughs' Automatic Control," a device that functioned "regardless of the inexperience, carelessness, or violence of the operator." By 1891, as recorded in the firm's archives, "there were indications at last that the adding machine had reached the dignity of a marketable commodity."
To take advantage of an abundance of skilled labor, the company moved to Detroit to produce mechanical calculators and accounting machines.
In the 1950s, Burroughs "entered the dark forests of electronics from which it emerged galloping astride a giant computer," as Allan Blanchard wrote in The Detroit News Magazine in 1966, the year much of the old plant was torn down for a new headquarters.
By then, with 37,000 employees and popularity on Wall Street, accounting machines and other devices still produced profits, while the company's custom-designed computers for aerospace, defense, heavy industry, and banking were money-losers until 1968, when net earnings reached $43.3 million.
"The business philosophy wasn't one that was aggressive in selling," recalls noted economist David Littmann, a one-time Burroughs employee. "Even more profound than that, we were not as good [as our competitors] at servicing the products out in the field. I think it caught up with them."
In 1973, Burroughs' share price was an impressive $235. But an economic recession a few years later set up a 1986 merger with Sperry Corp. (formerly Unisys). In time, what was left of Burroughs was packed up and moved to the town of Paoli, Pa.
But what comes around goes around. In 2010, a Sperry division was spun off, and Burroughs Payment Systems moved to Plymouth. Although William Burroughs might not recognize the offshoot, the beneficial effect of his pioneering work on behalf of accountants has been obvious for more than a century.
Facebook Comments