Craving the heat of Southern barbecue? William and Rebecca Kaufman are bringing Texas-style barbecue to the heart of Ann Arbor. Founded in 1941 by Travis Dickey, Dickey's Barbecue Pit is a family-owned American barbecue restaurant chain based in Dallas, and it's making its Michigan debut this spring.
Dickey's, which began franchising in 1994, is the largest barbecue franchise in the United States. By October 2015, it had more than 530 restaurant locations in 43 states. Today, the business employs approximately 8,000 people systemwide.
Ann Arbor native and new franchise owner William Kaufman grew up visiting family in Texas, where his love for Texas-style barbecue began. "My mother's side of the family is from Dallas, so we spent a lot of time down there," he says. "I've been going to Dickey's since I was a little kid and I really enjoy it."
Kaufman, with an IT background and nearly 20 years of experience working for Fortune 100 companies, admits he's never been in the food industry, but he says, "Opening a restaurant has always been in the back of my mind, (and) now seemed like the perfect time to do something different.
"For my current job, I travel exclusively," Kaufman says. "One day I was in the airport, deciding what I wanted to eat for lunch, and I gravitated right toward Dickey's I saw a sign that said 'franchising opportunities' — and the rest is history."
Kaufman says he's lived a few places around the country, but always ends up coming back to the place he "knows and loves" — Ann Arbor. He says there's no definitive representation of Texas-style barbecue in Ann Arbor, which is why he thought Dickey's would make a good fit. "Ann Arbor is a foodie town. People really enjoy their restaurants, and there's definitely a gap in good Texas-style barbeque," Kaufman says.
The Dickey's Barbecue Pit menu features eight meats (served by the half-pound) including beef brisket and pulled pork, and seven home-style sides like mac and cheese and barbecued beans. The restaurant has sandwich and salad options, as well as a "make it a plate" feature where you can add your choice of two sides to your meat or sandwich for a special price.
Although Kaufman has no previous experience in the restaurant business, he says Dickey's "has really held our hand through this and taught us what we need to know." He's looking forward to attending what Dickey's calls "Barbecue University," based in Dallas. The program is an intensive, four-week session for franchise owners, where they become experts in the Dickey's culture.
"What excites me the most about being a franchise owner is working for myself," Kaufman says. "I worked in the corporate world for the last 30 years, and now it's time to be my own boss. (The opportunity) to bring good barbeque to the city of Ann Arbor and to the people of the city is really exciting to me."
If all goes as planned, Kaufman says he and his wife might open more Dickey's locations in the future.
DBrief: Dickey's Barbeque Pit
Headquarters: Dallas, Texas
Products: Brisket, chicken, turkey, pulled pork, pork ribs, and sides
Michigan Franchises: 9
Nationwide Franchises: 600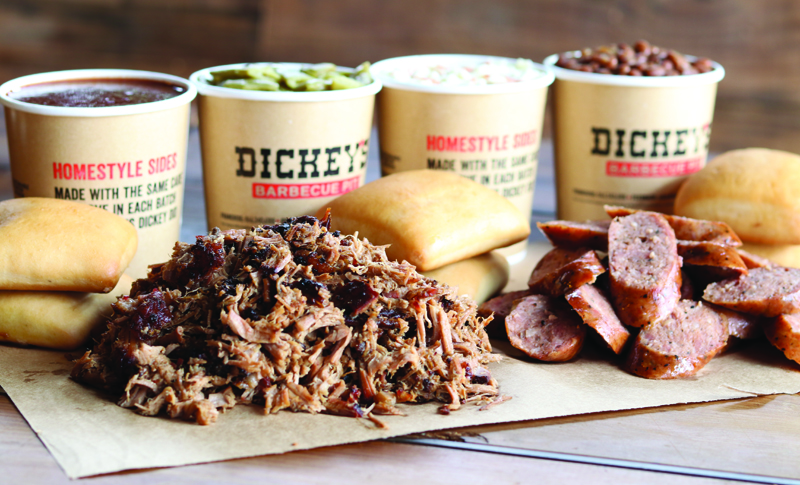 5 Things You Didn't Know About Dickey's
Travis Dickey's sons, Roland and T.D., took over the business in 1967.
The first location outside Texas opened in Colorado in 1998.
Barbecue sauce, rubs, gift cards, and Mr. Dickey's Barbecue Cookbook are available for purchase in Dickey's restaurants.
Roland Dickey Jr. became chief executive of Dickey's restaurants in 2006, continuing the family tradition.
In 2012, QSR Magazine included Dickey's Barbecue Pit on its list of "Best Franchise Deals."
5 Meats by the Half-Pound
Beef brisket
Pulled pork
St. Louis-style ribs
Polish sausage
Spicy cheddar sausage
5 Revenue Streams
Dine-in
Catering
Retail Items
Holiday meals
Online ordering