From its humble beginnings in 1979 as a nine-plane hangar display situated on the southwest corner of the Kalamazoo/Battle Creek International Airport in Portage, the Air Zoo Aerospace and Science Experience has evolved over four decades into one the fastest-growing museums in the country.
The Air Zoo, as the original Kalamazoo Aviation History Museum was nicknamed because of  the animal names of the first aircraft on display (Wildcat, Hellcat, Bearcat, and Flying Tiger), was the brainchild of Upjohn pharmaceutical heiress Suzanne Upjohn DeLano Parish and her husband, Pete. Both were pilots in World War II. Sue was a member of  the Women Airforce Service Pilots and Pete was a Marine Corps aviator.
By the turn of the century the old Air Zoo was bulging at the seams, so in 2005 it opened a new 120,000-square-foot facility nearby that included flight simulators, aviation-themed amusement rides, and a 64-seat 4-D Missions Theater designed to look like a World War II-era Quonset hut. It expanded again, by 50,000 square feet, in 2011.
"For more than two decades the Air Zoo was a flying museum, participating in air shows locally and internationally with planes from its collection," says Troy Thrash, president and CEO of the Air Zoo. "As the liability began to increase with these flying aircraft, founders Pete and Sue Parish, and then-CEO Bob Ellis, oversaw the design and construction of the inspirational and educational experience people know today as the Air Zoo. We now have more than 200,000 square feet of exhibit space on 50 acres of land.
"With the infusion of rides, interactive exhibits, and hands-on education programs inside and outside the Air Zoo, we've truly evolved from a museum to an interactive aerospace and science experience."
Among the Air Zoo's exhibits are more than 100,000 artifacts and archives. There are more than 100 aircraft that span the history of aviation, from a Wright Flyer replica to the SR-71B Blackbird spy plane. Other displays focus on the World War II Guadalcanal campaign, WASPs, the Tuskegee Airmen, the Doolittle Raid, and the Michigan Aviation Hall of  Fame.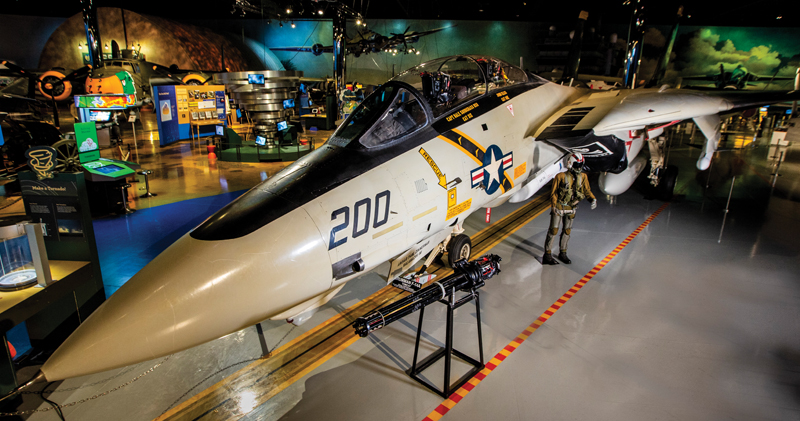 A short walk from the new Air Zoo complex, the original hangar buildings now house an aircraft restoration center where vintage airplanes are prepared for display.
According to Thrash, the museum's attendance between 2013 and 2017 increased 40.3 percent, far outpacing worldwide museum averages. The themed Entertainment Association reports that during the same period, attendance growth for museums around the world grew 2.3 percent; in North America, those numbers increased by 7.7 percent.
"The 167,336-person attendance number in 2017 was eclipsed again in 2018 with 175,300 total visitors," Thrash says. "So far in 2019, our 40th anniversary year, we're well ahead of 2018."
Thrash says the reason for the Air Zoo's popularity is its multifaceted approach.
"We're an air and space museum, a theme park, an educational center, and a restoration center," Thrash says. "Add all of this up, and the Air Zoo is truly a memorable, entertaining and educational experience for all."
Education has become a major element of Air Zoo programming during its 40 years of existence. For children, it offers STEM-themed day and overnight camps, events for scouts,
an engineering challenge for girls aged 9-12, home school discovery days, and a Sky Kids Club. It also hosts traditional school field trips and has an outreach program where Air Zoo staff members take STEM activities directly into the classroom.
Older students can participate in the Air Zoo's annual Science and Innovation Awards program and sign up for a two-year, college-level course to learn about employment opportunities in the aviation industry.
"In 2013 we made the decision to change the value proposition of the Air Zoo to an interactive aerospace and science experience focusing not only on hands-on STEM education but also, as an end goal, finding our place at the base of a technical workforce development pipeline for southwest Michigan," Thrash says. "Across the country, companies in technical industries like aerospace, biotechnology, health care, IT, and manufacturing are seeing an acute shortage of young people with technical skills compared to their older workers.
"By creating and delivering over 100 hands-on programs for young people that run the gamut of STEM disciplines, the Air Zoo now brings these concepts to life for more than 30,000 young people each year," he continues. "We want to give every child the opportunity to fall in love with math, science, and technology with their hands, their minds, and their hearts by immersing them in what it's like to be a real scientist, engineer,
or technician."
In addition, Air Zoo facilities have become a destination for business meetings and conferences, and provide a historical backdrop for weddings, high school proms, and other events. Kalamazoo-based Stryker Corp., Pfizer Inc., and other companies have conducted meetings and events in the museum's conference rooms and on the exhibit floor.
"There are a lot of corporate events that happen here, and there are a lot of different types of corporate events that we host," says Nikki Statler, director of marketing for the Air Zoo. "We had one with Pfizer where we closed the Air Zoo down and had 2,000 people here. We can accommodate smaller groups during the day without shutting down the museum."
Nate Melvin, the museum's director of engagement, says every evening represents potential for the Air Zoo.
"Whenever the museum is closed in the evening is a missed opportunity for us because we offer outstanding special events: weddings, banquets, corporate parties, proms, and the annual Michigan Aviation Hall of Fame induction ceremony," he says. "We set up a banquet area around the SR-71 that seats up to 400 easily. We get inventive when there are more people.
"The tone of the place changes when the museum closes," Melvin continues. "During the
day, with the rides running and the lights up, it has the feel of an amusement park. Dim the lights, put linens on tables, and it has an elegance all its own."
To help facilitate business meetings, the Air Zoo has state-licensed catering partners, its own liquor license, multiple video screens, and a full complement of audio/visual equipment.
"You're not going to get this type of unique setting anywhere else," Melvin says. "It's memorable. For an aviation company, it's perfect. You're not going to find something that's pre-set like this, and we have the infrastructure for it. It's not like we're fitting them in."
Melvin says all of the museum's attractions, including the rides and flight simulators, are available to anyone attending a corporate event. During the day, corporate guests are able to participate in restoring vintage airplanes in the Air Zoo's Restoration Center.
"That's become a nice team-building activity that we're able to offer," he says. "Another amenity is you can fly your corporate jet right in."
Facebook Comments