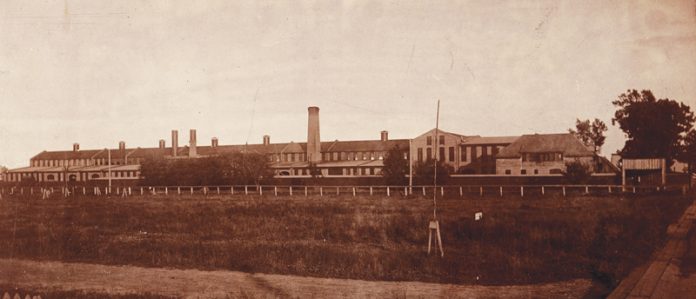 The big convention in Detroit from June 6-10, 1910, promised to surpass anything American foundrymen had yet experienced. This booming waterfront city of nearly 500,000 was "supremely attractive" for the conclave, according to the advance event copy.
An easy streetcar ride from downtown, the state fairgrounds served as the convention headquarters. Horticultural Hall and the Administration Building, both boasting concrete floors, provided exhibit space. At the Michigan Building, people could sign up for local plant tours.
"Few places in the world can show a greater variety of foundry products than can this beautiful city," reported Castings: A Journal of the Art of Founding. One feature of the week was riding the steamer Brittania around Belle Isle and then heading downriver to Solvay Process Co. and Detroit Iron and Steel Co., where voyagers could disembark to inspect the coke ovens and furnaces. Others could continue along to Livingston Channel, where a riverbed rock-cutting operation to improve navigation was underway.
The principal host during the week was Arthur Waterfall, general manager of Russel Wheel and Foundry Co. The company was the indirect outgrowth of activity that started in 1853, when Dr. George B. Russel contracted to build 25 cars for the Detroit & Pontiac Railway. Work commenced at a small Gratiot Avenue plant, but new investment led to the formation of Robinson, Russel & Co. By 1868, this was incorporated as Detroit Car & Manufacturing Co., and eventually a large plant was built near the tracks of the Detroit, Grand Haven & Milwaukee Railroad, which itself was a successor to the Detroit & Pontiac line. George Pullman came to town in 1871, buying Detroit Car & Manufacturing and building his sleeper coaches until 1893. Meanwhile, Michigan Car Co. launched in 1864 and met immediate prosperity.
High grades of metal, including wheel iron, were produced in furnaces to meet the local demand, and other affiliated enterprises such as Detroit Car Wheel Co., Baugh Steam Forge, and Detroit Pipe & Foundry Co. clustered around the large car manufacturers. Formed in 1876, Russel Wheel and Foundry Co. produced wheels for its own use. Besides building "a considerable number" of freight cars, it also made special cars for logging, as well as skidders and other machinery. Castings for waterworks were another specialty.
Castings listed Russel Wheel's other specialty as "iron frames for buildings of all classes" — skeletal lighthouses included. In 1905, for example, Russel Wheel received a $24,000 contract for an octagonal-pyramid iron skeletal tower to support a navigational light at Hillsboro Inlet in Broward County, Fla. The 142-foot-tall structure was preassembled, to test for structural integrity. Then it was disassembled and shipped down the Mississippi River, over the Gulf of Mexico, and around the tip of Florida for reassembly at the inlet.
A showcase for the company was the Hammond Building, Detroit's first skyscraper. Russel Wheel supplied the iron and steel for the 151-foot-tall high-rise completed in 1889. Known for its fast hydraulic elevators and bright incandescent lights, the Hammond Building held its place until being demolished in 1956, after which it was replaced by the National Bank of Detroit headquarters (now known as the Qube).
Dr. George B. Russel "has probably done as much for this city as any other man living," wrote the Detroit Free Press in 1903. While carrying on his important medical practice, he invested in land. "I built more than 50 houses, I am sure," he said. And he spearheaded advances in transportation and manufacturing. Russel Wheel and Foundry outlasted the foundrymens' convention and continued operations a couple more decades until being snuffed out by the Great Depression. When it disappeared, memories of Dr. Russel dimmed, and one of the last vestiges of Detroit as a rail-car production powerhouse faded out, too.
Facebook Comments