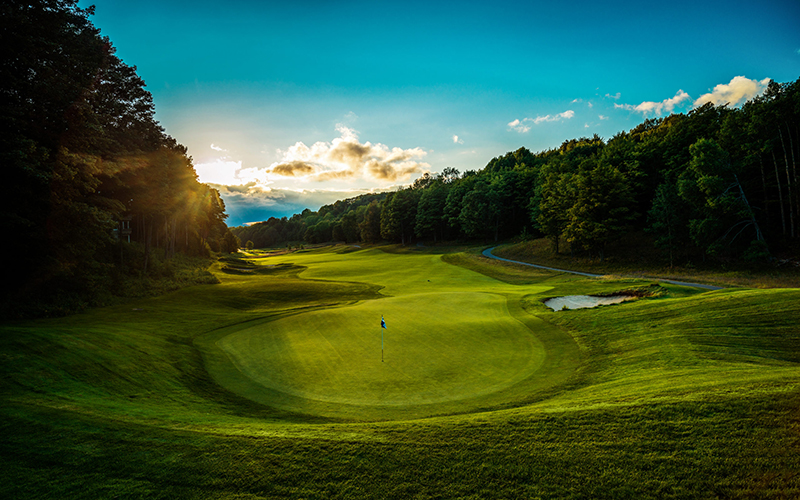 With two years of pandemic restrictions in the rearview mirror, Michigan's golf and tourism industries are primed to build on last summer's growth, which was fueled by pent-up demand from travelers who hit the road in record numbers.   
From the Upper Peninsula to Mackinac Island and across northern Michigan, operators of resorts, golf courses, and hotels — not to mention officials at the Traverse City Airport — are expanding or renovating their properties to cope with the crowds they experienced last year.
Property owners say a joint marketing effort by convention bureaus in Gaylord, Petoskey, and Traverse City, which highlighted their tie-ins with Cherry Capital Airport in Traverse City and the Pure Michigan tourism campaign, resonated with travelers from southern and western states, where scorching summers make Michigan an inviting destination.
Included in the joint marketing blitz is the Gaylord Golf Mecca — a collection of 17 courses, golf resorts such as Treetops in Gaylord and Garland in Lewiston, and 21 hotel properties. Also participating is America's Summer Golf Capital, which counts Grand Traverse Resort in Acme, Crystal Mountain in Thompsonville, and Shanty Creek in Bellaire among the seven resorts and 22 courses in its group.
"These partnerships are invaluable for getting the word out about northern Michigan," says Barry Owens, general manager of Treetops. "A foursome living on Long Island can find out they can fly nonstop to Traverse City, rent a car, and play first-class golf (for less money) than it would cost in their own backyard."
Judging from the record crowds of travelers passing through Cherry Capital Airport last summer, Michigan's golf and resort offerings are playing well not only in expensive East Coast areas like Long Island, but also in hot-weather states such as Florida, Arizona, and Texas.
Last year, Cherry Capital, the state's third busiest airport behind Detroit and Grand Rapids, served some 600,000 travelers, with 17 nonstops among its 72 daily summer-season flights. In July, the airport recorded its busiest month ever, with nearly 113,000 passengers passing through its gates. The facility is ranked among the top 25 growing airports in the country.
United, Delta, American, and Allegiant Airlines provide service not only to sun-baked states, but they also bring visitors from as far away as Denver, Minneapolis, and large East Coast population centers like New York City, Newark, Washington, D.C., Boston, Philadelphia, and Charlotte.
Kevin Klein, general manager of Cherry Capital Airport, says officials are working with their airline partners and the FAA on plans to expand the main terminal's five-jet-bridge concourse for passenger arrival and egress to 10 jet bridges inside a second concourse by 2030. By the end of the decade, peak summer traffic is expected to hit 150,000 monthly passengers, representing a 32 percent increase.
"We could use those 10 jet bridges today," he says, noting that the longer-term plan under discussion is to have 15 bridges by 2035.
Around the state, golf resorts such as Boyne and Treetops are doing major renovations of their courses. Holland-based golf designer Ray Hearn, the architect behind a project at the Inn at St. John's in Plymouth Township, is working with Boyne Resorts to restore holes at the Highlands facility. He also designed a nine-hole, Par-3 course that will be built this fall at The Highlands at Harbor Springs. Paul Albanese, another prominent local designer from the firm Albanese and Lutzke in downtown Plymouth, is the consultant for Treetops on the modernization of its five courses.
Aside from golf, one of the summer's largest northern Michigan attractions is the annual Great Lakes Equestrian Festival, which spans 13 weeks and attracts 5,000 horses, thousands of well-heeled spectators, and top riders and trainers of all stripes — juniors, amateurs, professionals, and Olympians — who compete for more than $4 million in prize money.
Klein says each of the 5,000 horses taking part in the summer-long events account for eight to nine people — or 40,000 who fly in and out of the airport. "It's a fabulous event that just keeps expanding, and the economic impact it has on the community is amazing," he says. "I find it's such a wonderful thing to watch those magnificent horses and riders perform."
The events are staged at the 130-acre Flintfields Horse Park in Williamsburg, 10 miles outside of downtown Traverse City.
A study last year by the Sport Management Research Institute (SMRI) showed that 33.5 percent of attendees were from 46 states and 28 countries, and had annual household incomes of more than $500,000, while 50 percent of attendees had incomes of more than $300,000. The majority of participants are college educated women between the ages of 40 and 59. Despite not having spectators last year due to COVID-19 restrictions, the economic windfall for the local tourism industry was more than $120 million, according to the study.
The other major tourism highlight in Traverse City, the National Cherry Festival, will run from July 2-9 and feature big spectator attractions like the U.S. Navy Blue Angels air show and nightly concerts. In addition to the daredevil fighter jets returning to the sky over the bay this year, acts including ZZ Top, Cheryl Crow, and Boyz II Men will headline the concert stage.
Another equestrian venue making news this season is the 23-acre hillside facility overlooking Little Traverse Bay outside of Petoskey that was part of Boyne Resorts' Bay Harbor recreational and residential community created by mega developer David V. Johnson of Bloomfield Hills.
The property was purchased last December by Petoskey-based High Five Spirits, a two-year-old whiskey distillery founded by twin brothers Adam and Michael Kazanowski. The 42,000-square-foot, barn-styled center will reopen in June as Gypsy Farms and will house a distillery, tasting room, and beer garden, and offer space for weddings and receptions. An outdoor concert venue is in the plans. The Gypsy name is adopted from High Five's popular vodka line.
"The equestrian center was a passion project for Johnson, and he had other offers that involved tearing the building down," Adam Kazanowski says. "We told him we would never think of tearing it down, and he worked out a deal to help us buy it." 
Kazanowski says new equipment installed at the site will allow his group to produce up to 2,500 barrels of whiskey annually, making High Five Spirits one of the largest distilleries in the state. He says a Mexican-themed restaurant and a burger restaurant styled after Birmingham's iconic Hunter House will provide food service.
With a tip of the cap to the nearby Bay Harbor Golf Club, Kazanowski says golf simulators will be installed, as well. "The setting is just fantastic; it's a beautiful piece of property and we can't wait for people to come out and enjoy it," he says. The distillery's original tasting room is in downtown Petoskey. Last summer, the brothers opened the Mackinac Island Rum Co. on Mackinac Island.   
Another nearby Boyne property undergoing a generational transformation is its venerable Highlands resort in Harbor Springs. Starting with a name change, the nearly 60-year-old golf and ski resort now is known as The Highlands at Harbor Springs, eliminating any confusion with Boyne Mountain, the company's sister property 25 miles to the south in Boyne Falls.    
The name change is the easy part of an ambitious remaking of the resort to recast it as one of the top luxury destinations in the country by 2030. A pre-Christmas fire in 2016 that damaged 70 of the 148 main hotel rooms was the impetus to reinvent the property as a boutique hotel.
"The modernization of the Main Lodge is a pivotal piece of a larger resort transformation that will be underway throughout the next 10 years," says Mike Chumbler, president and general manager of Boyne Highlands Resort. "The Main Lodge is at the heart of the experience and stands as a testament to the elevated caliber of service, amenities, and accommodations our guests can expect."
Visitors this summer will experience a new lobby in the Main Lodge featuring a larger reception area and a bar. Eighty-seven guest rooms were rebuilt and offer more spacious, elegant luxury accommodations ranging from standard king and queen bed configurations to deluxe, premium, and suite layouts.
A European-styled spa and pool complex is also on the drawing board. Boyne says a wellness team has been working for two years with "some of the most successful European spa consultants and, with their guidance, have created a true immersive experience."
When completed, the 16,000-square-foot facility will offer thermal baths and saunas, including a traditional Russian steam room, salt therapy, and other therapeutic elements. In turn, the new 1,600-square foot main pool will have scenic views of the ski hills, hot tubs, a café, a casual restaurant, and a private outdoor yoga pavilion.
While its efforts won't be as dramatic, the family-owned Gull Lake View Golf Resort, located between Kalamazoo and Battle Creek, has begun a two-year renovation of the 67 villas that make up the hotel component of the property, which offers six different golf courses. Upgrades are slated for all kitchen and dining areas, bedrooms, and bathrooms, and will include new plumbing, flooring, fixtures, windows, and a key card entry system.
As part of a new attraction, in June Boyne Mountain will unveil SkyBridge Michigan, a 1,203-foot-long, 118-foot-high pedestrian bridge connecting the peaks of the McLouth and Disciple's Ridge ski hills. Boyne says it will be the world's longest timber-towered suspension bridge. The 5-foot-wide SkyBridge Michigan will be accessible by chairlift and will provide year-round panoramic views over the ski hills and the valleys below. It is also connected to the resort's extensive paved trail network.
The concept is modeled after the Gatlinburg SkyBridge, a successful but unlikely Boyne property that's part of the Gatlinburg SkyLift Park in Tennessee. Ski lift chairs rising out of downtown Gatlinburg take sightseers on a 20-minute ride up 1,800 feet on Crockett Mountain to a lookout park where a 600-foot pedestrian bridge dangles 140 feet over exhilarating views of the Smoky Mountains.
Boyne Resort's founder, the late Everett Kircher, built the Gatlinburg operation in 1954 and credited the novelty chairlift attraction with paying for the development of Boyne Mountain.
What's more, at the Island Casino and Resort outside Escanaba, operators are looking for big cash returns on their $33 million investment in 138 new guest rooms and suites and a new steak house restaurant in an existing 11-story hotel. The added rooms will boost hotel capacity to 400 rooms and suites. With two award-winning golf courses, Sweetgrass and Sage Run, and more than 1,200 slot machines, gaming tables, a poker room, a bingo hall, and a sports book, the resort is one of the largest golf, casino, and entertainment destinations in the Midwest.
The new accommodations include designated golf and spa suites with hot tubs and in-room massages. Thirty-four of the new rooms can be converted into 17 family-style suites for guests bringing children to the new waterpark and pool area.
Earlier this year, the Sweetgrass course — designed by Paul Albanese — received one of golf's most prestigious awards when it was named the 2022 Golf Course of the Year by the National Golf Course Owners Association during its annual business conference in Orlando, Fla. The award is based on four criteria: quality of the golf course, quality of ownership and management, outstanding contributions to the local community, and significant contributions to the game of golf.
Tony Mancilla, general manager of Island Resort and Casino, says the expansion, which includes more convention space and a water park, was driven by customer demand. The property is owned and managed by the Hannahville Indian Community of the Potawatomi Indian Tribe.
"The backlog of guests who wanted to get in on the weekends had become overwhelming," he says. "The waiting lists of 150 people to 200 people every weekend made us realize how much we needed new rooms, a high-end dining option, and additional options for the family. On the golf side, this (award) continues to elevate our status as a premier golf destination."
Expansion also is in the air in Gaylord, where Barry Owens at Treetops Resort reports the recent multimillion-dollar renovation of the facility continues, with the conversion of six unused chalet buildings into six two-bedroom and six three-bedroom units that will be available for families or golf groups this spring.
Another welcome addition is a new 87-room Comfort Inn hotel in downtown Gaylord that opened for business this past winter, the fourth such new hotel to open in four years in the Bavarian-themed resort town straddling I-75 in Otsego County. The addition of hotels raises the capacity for the area, including those in Golf Mecca resorts, to 1,337 rooms — a 15-percent increase.    
"The pandemic was unkind to some businesses and kind to others," says Paul Beachnau, executive director of the Gaylord Convention and Tourism Bureau, who reported record increases in various business benchmarks, including room capacity, in the past year. Room bookings for the area rose 15 percent over 2019, and were up a whopping 58.2 percent over the pandemic-stricken year of 2020.
On the golf side of the ledger, the 17 courses and 21 lodging facilities in the Gaylord Golf Mecca reported revenue of $17.5 million last year, a 22.3 percent increase, Beachnau says. Golf revenue is tallied from green fees, cart rental, pro shop proceeds, food, and driving range sales. Last season the courses recorded 256,000 rounds played, a 10.5 percent increase.
"We did better than the state, where rounds were up 10 percent, and rounds played in the U.S., which were up 5.6 percent," Beachnau says, citing data from the National Golf Foundation.
He says even now, with COVID-19 restrictions almost nonexistent, the impetus the pandemic forced on travelers to do outdoor activities is still in place.
"We're really bullish on this coming season. Everything we've seen in trends and advance room sales are up, and least 65 percent of last year's visitors say they're coming back," Beachnau says.
North of Gaylord, operators on Mackinac Island are prepping for the season with even more new attractions and updates following a year that saw a record number of visitors on the island. "We believe the number of visitors last year was in the range of 1.1 million to 1.3 million," says Tim Hygh, executive director of Mackinac Island Tourism. "The preseason bookings are brisk and we're anticipating another really good season."
After spending $10 million renovating and adding new features to its 220-foot-long swimming pool, the owners of the historic Grand Hotel are pouring another $8 million this season into a new nature center, pickleball courts, a putt-putt golf course, a bicycle rental area, and a BMX off-road bicycle course for kids 12 and under. The iconic 600-foot porch at the Grand Hotel is getting 100 new rocking chairs, as well.
The investment comes from KSL Capital Partners, a private equity group that bought the hotel from the Dan Musser family three years ago. The hotel is managed by the Davidson Hospitality Group of Atlanta. 
"Our members continue to invest in making their properties even better, and we're very fortunate to have owners who can afford to make the investments," Hygh says. "The feedback on the changes at the pool (at the Grand Hotel) has been phenomenal."   
Other improvements are taking place at Mission Point Resort, which has added private hot tubs in 14 suites and enhanced outdoor deck seating for diners. The Chippewa Hotel, the home of the popular Pink Pony Bar, has installed a new 25-person hot tub with a pink pony logo on the bottom.
Moving closer to home, the Pulte family, new owners of The Inn at St. John's in Plymouth Township, is converting the dated 27-hole golf facility into a top-tier, 18-hole championship course to complement an AAA Four-Diamond-rated hotel that offers convention, wedding, and dining facilities. Hearn blew up the original 27-hole course and is in the process of building a 7,000-yard championship layout as its replacement. The new 18-hole course is projected to open in mid-summer next year.
"It's a tremendous project, not just golf, but the convention center, a 600-person wedding center, and all the other amenities they have out there," says Hearn, who is also designing a seven-hole, Par-3 course, and a Himalaya-style putting course that will cover 2 acres. With the five sets of tees he worked into his design, the designer says the new course will offer players of every skill level multiple angles and options.
Sparing no expense to ensure the best product, the Pultes hired LaBarr Golf Renovations of Basking Ridge, N.J., one of the top golf construction firms in the country. LaBarr was the construction crew on the recently completed renovation of Oakland Hills Country Club's famed South Course. "I'm really looking forward to working with them," Hearn says. "With USGA- specific greens and 007 bentgrass fairways, the course will rival the look of a private club."   
---