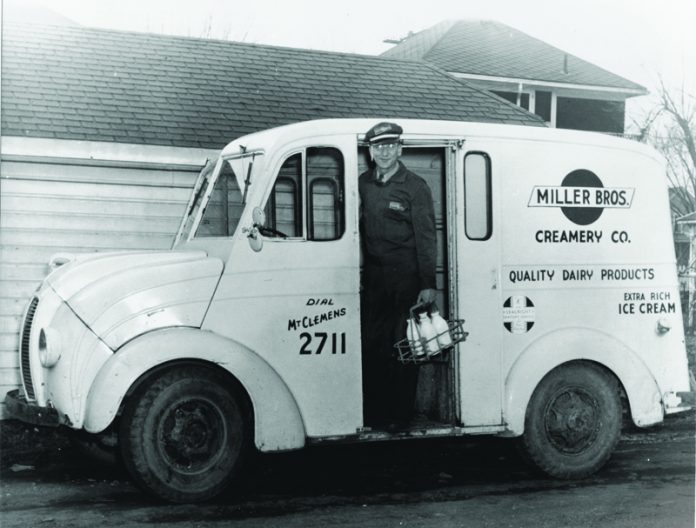 John Nicol had a rare opportunity for an automotive executive in 1936. After graduating from the University of Michigan, he gained 20 years of experience in the truck business with Federal Motor Truck Co. and General Motors Corp. 
Now running Divco-Twin Truck Co., the board of directors charged him with developing an all-new model. Divco-Twin — originally Detroit Industrial Vehicle Co., or Divco — had built milk delivery trucks since 1926. By incorporating numerous advances he had learned in the auto industry, Nicol's Model U would prove to be a classic. 
Divco's earlier models and those from competitors such as Walker, Thorne, Ward, Pack-Age-Car, and International Harvester had been awkward-looking at best. Nicol applied the principles of contemporary Detroit styling, and the Model U adopted a streamlined shape. 
The snubbed snout featured an Art Deco-style ornament that doubled as the hood's handle. Headlamps were integrated into the front, and the split windshield sloped back. Accent lines traced over the front fenders and streaked across the sides. Rather than aluminum body panels wrapping around a wooden framework, the Model U had a welded, all-steel body. Cleverly arranged seating, pedals, and levers allowed a driver to stand or sit as desired. 
The vehicle's top speed was 32 mph, and the engine could idle seven hours on a gallon of gas.  
Following its 1938 debut at the National Motor Truck Show in New York, production of the Model U started in Continental Motors' plant at 12801 E. Jefferson Ave. (at Continental Street, just east of Conner Avenue). Continental had rescued Divco from bankruptcy in 1932, forming Continental-Divco and building about 2,600 trucks in the mid-1930s, but Twin Coach Co. wrested away the operation after a patent dispute and formed Divco-Twin.
The new directors took out a $325,000 loan and built a 136,000-square-foot factory in Warren. Ready in 1939, the Divco-Twin plant greatly increased efficiency. Within two years,
annual production had risen to 2,799 trucks. The base price was $1,250, and the company netted $477,796 in 1941 on earnings of $4 million. 
"They were lean and mean, and that's how they stayed in business as long as they did," says John Sterly, president of the 350-member Divco Club of America. 
Returning to normal production following the war, revisions to the Model U gave buyers more choices. A six-cylinder engine and automatic transmission became available, while a long-wheelbase variant, multiple rear-door options, and even refrigeration were added. What's more, a finished truck would be shipped with a primer-coated body, ready for painting in a local dairy's colors. Helped by suburban expansion, which lengthened delivery routes, demand for the Model U grew and production reached 6,385 trucks in 1948. 
With the postwar boom of the 1950s, Divco Corp., as it became known, broadened its lineup to include a large van for other trades. The Divco Dividend, first appearing in 1956, would be offered with a wheelbase as long as 153 inches. A six-ton wholesale delivery truck with a hydraulic rear lift came out in 1961. 
Operations continued in Warren for seven more years, until a series of moves placed Divco in the hands of Transairco Inc. and it relocated to Delaware, Ohio. Social patterns and improved home refrigerators reduced the demand for milk delivery, resulting in the end of Model U production in 1986. But today, when we think of the milk truck, we still think of the Divco Model U — the perfect blend of form and function.