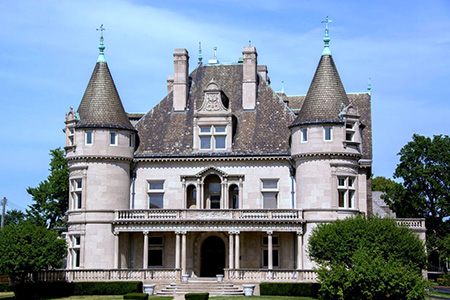 Wayne State University will dedicate and rename the historic Col. Frank J. Hecker House on Woodward Avenue on Wednesday as the Tierney Alumni House, after a $2 million donation from philanthropists Thomas and Elizabeth Tierney that will help preserve the home.
"This house is a celebrated landmark, rooted in Detroit's culture for more than 120 years," says M. Roy Wilson, president of Wayne State. "We are proud to help preserve this historic home with the generous support of the Tierneys."
Renowned architect Louis Kamper, who also designed the Book Tower and the David Broderick Tower in downtown Detroit, designed the renamed Tierney Alumni House, located along Woodward Avenue at East Ferry Street in Detroit's Midtown district. The house was built between 1889 and 1892. 
In 1991, the law firm Charfoos & Christensen, purchased the house from the Smiley Brothers Music Co. and invested more than $1 million to restore the house. A year ago, Wayne State purchased the house from the law firm for more than $2 million.
Thomas Tierney, an alumnus of the Wayne State School of Business, visited the home last year with his wife and wanted to support the university's efforts to preserve the home.
"It is a worthy investment to preserve this home that is not only a work of art, but also a beloved piece of history in Detroit," Thomas Tierney says.
Their gift will create a $1 million endowment to ensure the house is preserved and maintained, and an additional $1 million will support future programming. The dedication will take place Wednesday.
Hecker, a Union Army veteran from the Civil War, was a principal of Peninsular Car Co., which built railroad cars starting in 1880. He asked Kamper to design an estate that resembled a 16th Century French chateau called Château de Chenonceau. One reason for the design was to commemorate Detroit's French roots.  
For more information on Peninsular Car Co., please see Page 130 of the September/October 2015 issue of DBusiness magazine, in a story called, "Railroad Ties."