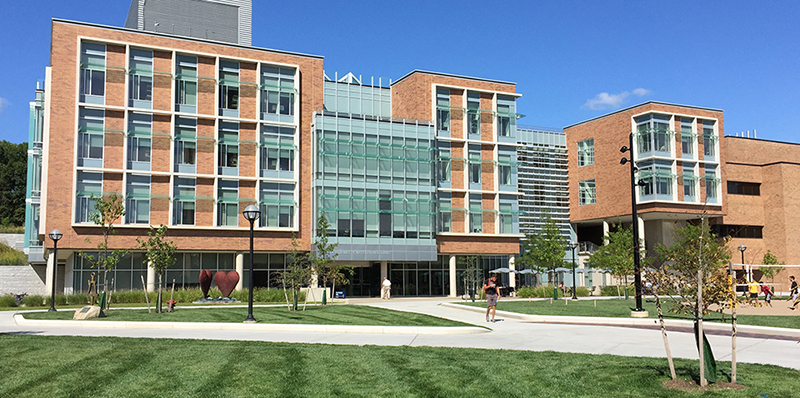 The Birmingham-based Leinweber Foundation has presented the University of Michigan in Ann Arbor with a $25 million gift to help fund a new, 163,000-square-foot computer science and information facility on the school's North Campus.
In recognition of the donation, the U-M Board of Regents voted to name the building the Leinweber Computer Science and Information Building. The Leinweber Foundation was founded by software entrepreneur Larry Leinweber.
The new building will bring the Computer Science and Engineering Division of Michigan Engineering, and the School of Information, together under one roof at U-M for the first time.
The move will strengthen the collaboration between the two disciplines, according to the university. Once completed the new space will "develop breakthrough technologies, conduct innovative research, and facilitate an innovative learning environment for students," according to U-M.
"Michigan has a longstanding reputation as one of the leaders and best in computer science and information," Leinweber says. "We hope this new gift will further advance both of these fields and amplify U-M's impact by bringing some of the brightest minds in engineering and information science together in one collaborative setting."
In the last 10 years, the number of students enrolled in undergraduate and graduate programs in both CSE and UMSI has quadrupled, and the new building will provide much needed space to meet the increasing demand for computer science and information graduates for research, industry and education.
"The Leinweber Foundation gift is a tremendous example of U-M's ability to unite philanthropy and multidisciplinary strength in the service of our students and innovative research that keeps us on the forefront of discovery," says Mark Schlissel, president of U-M.
Michigan Engineering and the School of Information currently are located on different campuses a few miles apart, but the new $145 million facility will house UMSI in its entirety and expand space for CSE beyond its current home in the neighboring Bob and Betty Beyster Building. Furthermore, it should help attract the top talent for aspiring computer science and information scholars.
The new facility will serve as a hub for computer science and information students, with flexible classrooms and the latest technology, open spaces for group learning opportunities, collaboration spaces, labs, and more.
"Co-location is essential to seed and sustain high impact interdisciplinary work," says Thomas Finholt, professor and dean of the School of Information. "By joining faculty and students from multiple disciplinary backgrounds in one place, we will accelerate, enrich, and increase the boundary-spanning interactions that produce innovative paths of research. Thanks to the gift from the Leinweber Foundation, we'll be better able to solve the problems of the future by combining insights across disciplines in new ways."
The new Leinweber Computer Science and Information Building will eliminate the need for top talent to choose between working in a CSE environment or a UMSI environment across town, thereby removing barriers between like-minded colleagues. This convergence of disciplines also should strengthen the academic culture, promoting the fusion of human-centered and technical perspectives to critical areas such as artificial intelligence, human-computer interaction, and machine learning.
"Technology is becoming more dependent on information — our products are getting smarter and require programming that is human-focused and free from bias," says Alec Gallimore, dean of engineering and a professor of aerospace engineering.
"By bringing these important fields into collaboration, this incredible investment from the Leinweber Foundation will help Michigan remain not only a top-flight university, but one that draws upon a range of disciplines and perspectives to ensure that the innovation closes societal gaps and has a positive impact on all populations."
In addition, the new building will be designed to play a key role in the university's mission toward carbon neutrality. The university plans a phased campus-wide transition to geothermal heating and cooling systems, beginning with this new building.
Facebook Comments