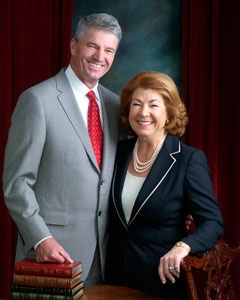 Grand Rapids business and community leaders Mike and Sue Jandernoa donated $4.3 million to Ann Arbor-based University of Michigan School of Education's TeachingWorks organization. The bulk of the gift, $3 million, will be used to expand a partnership in Grand Rapids to coach teachers, particularly in math education.
It will also establish a need-based scholarship at the Stephen M. Ross School of Business, and expand fellowships at the Gerald R. Ford School of Public Policy, both located in Ann Arbor.
"Just at the time when the current workforce needs better math skills, our high school graduates have significantly less math understanding and proficiency. We must help these students in math now so they can have successful jobs in the future," says Mike Jandernoa.
The Jandernoas recognized deficiencies in math readiness among students in west Michigan. Michigan Department of Education test summaries show math proficiency levels are just above 40 percent for third-grade students in Kent County, where Grand Rapids is located. Proficiency for eighth-grade students in the county is below 40 percent.
TeachingWorks focuses on advancing equity and social justice for students. The program is working with Grand Rapids Public Schools, Godfrey-Lee Public Schools, Kent Intermediate School District, and Grand Valley State University to create a five-year training, development, and support program designed to improve math education for students in grades 3-8. After the first year of the project, collaborators will expand partnerships to meet needs that are determined in the initial stages of work.
"The Jandernoas' continued and unparalleled support — and their insightful and wise engagement with and guidance of our partnership — will enable TeachingWorks to transform the quality of elementary mathematics teaching in Grand Rapids," says Deborah Loewenberg Ball, TeachingWorks director and professor of education. "With this investment, we will advance our efforts to work collaboratively with educators in west Michigan to build and sustain a pipeline of quality teachers in west Michigan."
"The Jandernoas' leadership is remarkable because their gift is accompanied by a generous personal commitment to build the partnerships that will benefit children in this state," says Elizabeth Birr Moje, dean of the School of Education. "The relationships we build with schools, nonprofits, agencies, and peer institutions are at the core of our work, and we will continue to invest in these partnerships."
Sue Jandernoa has 30 years of teaching experience, and Mike Jandernoa is former chairman of the board and CEO of Perrigo Co., as well as a mentor to Michigan entrepreneurs and an emeritus member of the Business Leaders for Michigan. Mike Jandernoa is a 1972 U-M graduate.
The Jandernoas have given more than $10.4 million to the university, in addition to their recent gift. They have lent their time and expertise as chairs of the Victors for Michigan Campaign Steering Committee, the West Michigan Campaign Leadership Council, and numerous advisory groups across campus, including Sue Jandernoa's 10 years on the School of Education Dean's Advisory Council. In 2007, Mike Jandernoa received the David B. Hermelin Award for Fundraising Volunteer Leadership — U-M's highest honor bestowed upon donors and volunteers.
Facebook Comments