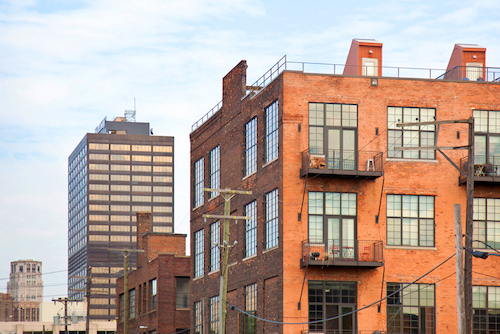 Corktown has drawn a record price for a residential loft in Detroit's oldest neighborhood, a two-level, two-bedroom industrial-style condominium in the historic Grinnell Building at Michigan Avenue and Brooklyn Street.
Sold for $531,313 to an undisclosed buyer, the price represents a cost of $412 per square foot (1,290 square feet), which is one of the highest prices paid for a condominium in Detroit, says Jim Tumey, a senior commercial real estate agent at The Loft Warehouse in Detroit who listed the unit, while his colleague, Jan Dijkers, sold the residence.
The loft is located on the penthouse level of the building, and includes a balcony off of the living room, a rooftop terrace, a guest suite on the first level, and a master suite on the second level. The kitchen includes granite countertops, dark wood cabinets, a Restoration Hardware light fixture, and stainless steel appliances.
"There's original wood flooring throughout the space, and we were able to sell the loft without putting it on the market," Tumey says. "You have some of Detroit's best restaurant's and bars at your front door, and it's walkable to downtown and the riverfront."
Located at Grinnell Place Lofts, the brick and glass structure was built in the early 1900s and was used as a warehouse for Grinnell Brothers Pianos, among other companies. Grinnell operated a store along Woodward Avenue in downtown Detroit, as well.
Facebook Comments