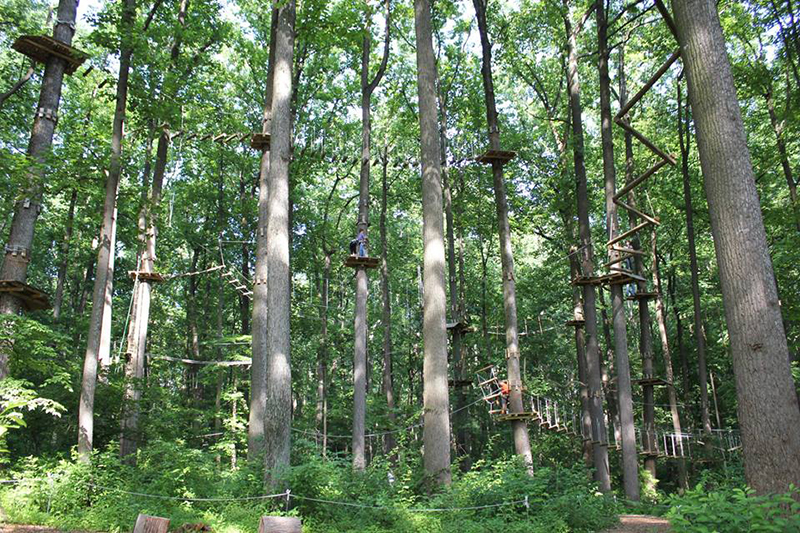 TreeRunner Adventure Park, which was started by Michigan entrepreneurs and has two Michigan locations, will open its latest location on Oakland University's campus in Rochester Hills on June 21. The new location will feature easy to challenging high ropes climbing and zip lining.
"This and all of our locations offer families, students, and organizations an opportunity to get outside and experience adventure in a beautiful forest setting," says Thomas Knuth, director of operations for TreeRunner Parks. "With over 60 obstacles and zip lines, ranging from beginner to advanced difficulty, there is something for everyone to have a great time climbing at our park."
The park will provide obstacle courses in the trees with varying difficulty levels, courses, and elements designed for families, friends, students, and co-workers. Anyone over the age of 7 can climb, and no previous experience is necessary.
"It's been a wonderful opportunity for Oakland University to collaborate with TreeRunner on bringing a new park to campus," says Greg Jordan, director of University Recreation and Well-Being. "It's a win-win situation that will benefit our students, faculty and staff at the university, but it will also be a benefit to the surrounding community. The new park will provide a unique way to exercise and improve physical fitness and be fun at the same time. There's nothing wrong with that."
On Mondays, the park will only be open to group reservations. It will be open to the public 9 a.m.-10 p.m. Tuesday-Thursday, 9 a.m.-11 p.m. Fridays and Saturdays, and 9 a.m.-8 p.m. Sundays.
"We have several events planned throughout the season including themed Glow Nights, College Night, Carnival Day, Pirate Adventure, and our regular weekly climbing schedule. It's going to be an incredible summer season at TreeRunner OU," says Knuth.
More information about the park is available here. General admission and group reservations are available, and tickets are $48 per person for climbers 12 and up. Climbers receive an interactive orientation and practice session before beginning the course. TreeRunner Adventure Park has locations in Grand Rapids, West Bloomfield, and North Carolina.
Facebook Comments