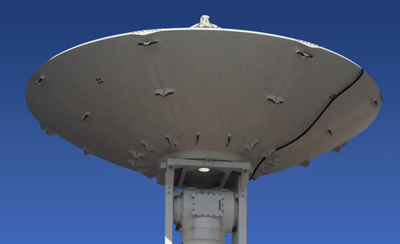 A space communications company in Traverse City today announced it has been awarded a research contract from NASA.
Atlas Space Operations has received a Small Business Innovation Research Phase II contract worth $750,000 from NASA to further the development of an algorithmic solution to improve satellite ground station contact schedules.
The contract will be fulfilled by implementing software that analyzes a project's importance, optimizes tasks, and produces a goal-optimized schedule — all on a "lights-out" basis. Once operational, both commercial and government are expected to will see substantial cost and time reductions.
"We are very excited to be working with NASA on introducing an industry first cognitive satellite operations platform," says Sean McDaniel, CEO of Atlas Space Operations. "This effort represents a step change in the way we think about the communications segment as the common thread through the space industry and the markets it supports. There is much more to come from our incredible team as we continue to drive toward a unified access platform for satellite communications."
Atlas also announced the successful integration of its Freedom Platform with the Major Tom interface of Texas aerospace company Kubos, which is saving operators time and cost.
Astroscale, a Japanese orbital debris removal company, is using Atlas technology in its ELSA-D mission to demonstrate the ability to autonomously capture and deorbit a satellite in the event that it becomes necessary.
BlackSky, of Seattle and Virginia, is scheduled to launch two satellites as part of a SpaceX rideshare program. They will use Atlas' ground stations in Japan and Guam, and its Freedom Platform to retrieve and manage data.
National Oceanic and Atmospheric Administration Earth observation satellites will use Atlas' ground stations in Tahiti and Ghana to deliver intelligence to improve its tropical storm and hurricane prediction capabilities with virtually no human interaction.
In the five years since its founding, Atlas has grown from 22 full-time employees to 30, expanded its office space, and is establishing five new ground sites, which will bring the total number of Atlas-owned ground stations to 14 before the end of the year.
Facebook Comments