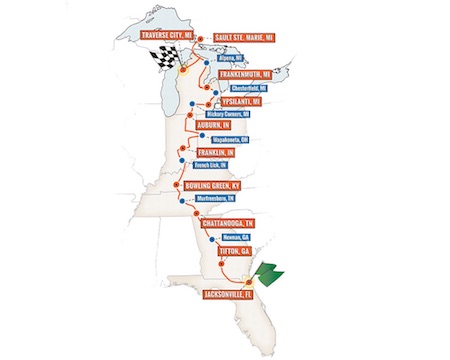 The Great Race, a control-speed competitive road rally for antique, vintage, and collector cars, will begin on public highways on Saturday in Jackson, Fla. Drivers will travel 2,300 miles along the Dixie Highway with stops for sightseeing along the way. The grand finish is in Traverse City on July 2, where the winner will be announced.
For eight to 10 hours a day, 120 driver/navigator teams must follow precise course instructions that test their mental endurance. The 220-250 daily instructions indicate every turn, speed change, stop, and start the team must make throughout the day.
There will be four to seven checkpoints along the course. The exact time the vehicle passes the point will be recorded, the objective being to arrive at precisely the correct time. There are penalties for being too early or too late. GPS and other navigational tools, like computers are not allowed and car's odometers will be covered.
Drivers and navigators can switch off duties during the rally at any time as often as they want. The course is mainly scenic, local, county, and state highways, rather than interstate highways. Support crews and and family are invited to accompany their teams on the Great Race, but they are not permitted to follow along or drive on the course during the day. Instead, they are provided with an alternate route that goes directly to their team's next overnight stop.
Vehicles built in 1972 and earlier are eligible to compete for the total purse of $150,000. Older cars receive better age factor adjustments for scoring purposes. While it varies from year to year, some of the oldest cars to compete in the Great Race include a 1911 Velie (2011 winner), and a 1907 Renault and 1914 Ford Model T in 2012.
Tom McRae and Norman Miller, fellow car enthusiasts, hosted the first Great Race from Los Angeles to Indianapolis in 1983. McRae and Miller bought out a race promoter who planned to race pre-World War II automobiles across the United States. The inaugural race drew 69 antique auto racers. Each year the Great Race crew strives to provide a different scenic route for the 9-day race.
This year's Great Race Route travels through seven states including Florida, Georgia, Tennessee, Kentucky, Indiana, Ohio, and Michigan. Stops in Michigan include Hickory Corners, Ypsilanti, Chesterfield Township, Frankenmuth, Alpena, Sault Ste. Marie, and Traverse City. Participants range from a 1909 American Simplex to a 1973 Jensen Interceptor.
More information on The Great Race and this year's participants, can be found here.
Facebook Comments