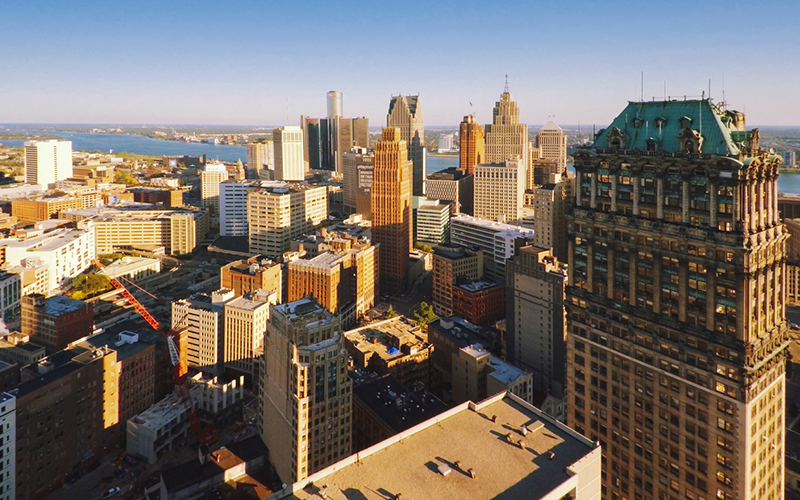 The Gilbert Family Foundation in Detroit today launched Venture 313, a three-year, $10 million commitment designed to help fulfill the city's entrepreneurial potential and provide Detroit-based founders with more opportunities to participate in the innovation economy.
"Venture 313 is a year-round, catalytic initiative that will provide Detroit-based entrepreneurs with access to capital, mentorship, and other support they need to build their businesses and achieve greater economic mobility for themselves and their community," says Jennifer Gilbert, co-founder of the Gilbert Family Foundation.
"In the largest majority-Black city in the country, we are excited to work alongside such dedicated partners to help bridge the venture capital gap that sees only 1 percent of funds go to Black founders."
The commitment includes a mixture of direct investment into startups, a web-based platform that provides guidance for entrepreneurs at each step of their journey, innovative programming, and more.
The $10 million will be directed to partner organizations that will work with the Gilbert Family Foundation to invest directly in small business owners and develop programming to further the goals of Venture 313. In addition to increasing access to direct capital, Venture 313 seeks to simplify the entrepreneurial ecosystem by connecting multiple partners through one common platform.
Founding partners for Venture 313 include Invest Detroit, TechTown Detroit, and the Detroit Development Fund.
Through partners, Venture 313 will invest $500 to $250,000 into Detroit businesses through a mixture of grant funding and equity-like investments, depending on the size, situation, and need of each business.
Invest Detroit, a community developmental financial institution, mission-driven lender, and investor that supports businesses in Detroit, will source venture-ready or high-growth focused startups looking to scale. Selected businesses will receive equity-like investments between $25,000 and $250,000. The Invest Detroit staff also will provide coaching and other programming to help entrepreneurs achieve long-term success.
"ID Ventures is pleased to be a partner in Venture 313," says Martin Dober, senior vice president and managing director of ID Ventures, the venture capital team of Invest Detroit. "ID Ventures is committed to removing barriers and helping Detroiters scale their great ideas into venture-backed companies and appreciates the Gilbert Family Foundation's support of inclusive entrepreneurship in Detroit."
TechTown Detroit, a nonprofit organization that provides programs, education, and resources for early- to growth-stage small businesses and tech entrepreneurs, will invest in smaller businesses that are primarily looking to evolve from ideation to the creation of a minimum viable product (MVP). TechTown will provide grants ranging from $500 to $25,000, as well as ongoing support and coaching as entrepreneurs look to sustain their presence in the marketplace.
"It is critical that we empower founders with the resources they need to turn a passion into a product, and continue to invest in their entrepreneurial journey," says Ned Staebler, vice president for economic development at Wayne State University and president and CEO of TechTown Detroit.
"The only way to achieve real and sustainable economic development is by investing on Main Street, and we are excited to join the Gilbert Family Foundation and Venture 313 to support the next generation of Detroit startups."
The Detroit Development Fund provides loans and technical assistance to small business owners who cannot get all the capital they need from traditional financing sources.
Entrepreneurs who are piloting new models, looking to penetrate industries in which Detroiters and minority founders are underrepresented, or may not otherwise fit the mold for traditional venture capital, will receive support from the Detroit Development Fund in the form of working capital, lines of credit, and other loans from $25,000 to $250,000.
"As a lender, we look at every aspect of a business when analyzing their potential, but often prioritize future growth over finances and big ideas over balance sheets," says Ray Waters, president of the Detroit Development Fund. "We are excited to be a founding partner of Venture 313 and collaborate with organizations like the Gilbert Family Foundation who, like us, understand that dreams are worth investing in."
Collectively, these three founding partners will work to develop and simplify Detroit's entrepreneurial ecosystem by demystifying the startup journey, aligning capital, mentoring founders, and improving the ability for Detroit startups to create new things and compete for customers.
To obtain funding, as well as participate in the unique programming and networking opportunities, interested entrepreneurs can visit Venture313.com, which was developed in tandem with TheStartup.com.
Users will be able to create an account, build their user profile, and complete their journey planner. This journey planner will provide entrepreneurs with a playbook uniquely tailored to their needs.
Playbooks, built by the Gilbert Family Foundation and founding partners, will empower entrepreneurs to engage in all facets of growing their business. This includes instructions on conducting market research, completing a competitive analysis, working toward the creation of an MVP, obtaining loans and other funding, preparing for demo calls, and more.
The playbook also will direct entrepreneurs to the partner who can best support their needs and provide them with funding.
The next phase of the website, which will be rolled out by the end of the year, will allow small business owners to request mentors, invite team members, and access important business components and tools.
"The venture capital world can feel like a secret club, with its own set of rules and language. A business-as-usual approach will not equip Detroit founders with the tools or funding they need to get in the game," says James Feagin, director of economic mobility for the Gilbert Family Foundation.
"We need to be as disruptive and agile as the businesses we are looking to support, and these playbooks and other resources will allow us to grow Venture 313 into a catalytic platform that truly opens the door for Detroit's entrepreneurs."
Venture 313 is the successor to Rocket Mortgage Detroit Demo Day, an annual entrepreneurship competition that invested more than $1 million every year into businesses in a variety of categories.
The Rocket Community Fund, the philanthropic partner of Detroit's Rocket Cos., commissioned a study from PricewaterhouseCoopers (PwC) to understand the economic impact of Detroit Demo Day, which invested more than $5 million over five iterations of the event into dozens of Detroit businesses.
More than half of the event's past winners (28 of 50) participated in the study, which was released today. The study found that those participating Detroit Demo Day winners supported 531 jobs, contributed $15.8 million of labor income and $23.8 million of value added in 2021.
Of the 28 respondent businesses, 18 (64 percent) are minority-owned, half are women-owned, and they represent more than 17 zip codes across the city of Detroit. They combined for more than $20 million in revenue in 2021 across 26 unique industries.
"We are so proud of everything Rocket Mortgage Detroit Demo Day was able to accomplish over its five-year run. Today's report confirms the impact of our investments on the participating businesses, their team members and our communities," says Laura Grannemann, vice president of the Rocket Community Fund and executive director of the Gilbert Family Foundation.
"Venture 313 is doubling down on this approach by taking what we learned from a one-day event and creating year-round opportunities for entrepreneurs to receive capital and other resources."
---