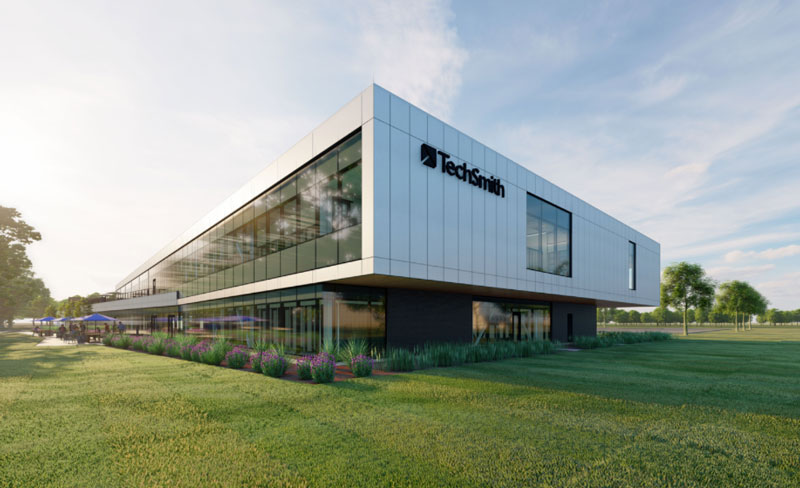 TechSmith, which specializes in software for creating and sharing images and videos, is moving from Okemos to a new facility in East Lansing. Officials recently broke ground for the 62,500-square-foot, two-story building near the Michigan State University campus.
MSU and the Michigan State University Foundation are partnering to develop the complex in the south portion of Spartan Village. The office building will be located at 14 Crescent Rd. on approximately five acres of land at the corner of South Crescent and Harrison Road.
"In a growing tech company, it's all about attracting and enabling the right talent," says Wendy Hamilton, CEO of TechSmith. "We look forward to providing a world-class tech facility to our amazing team that reinforces our culture, creativity, and collaboration. We are also committed to supporting Michigan State University and the Lansing region as community stakeholders."
The new headquarters is being designed to enhance employee wellbeing, connectedness to one another, talent opportunities, community partnerships and involvement, local brand awareness, and internship programs. Construction is expected to be completed by June 2022.
"TechSmith has been a longstanding business within the East Lansing community, and this latest investment reaffirms that Michigan is the best place to nurture and grow talent within our communities," says Gov. Gretchen Whitmer. "With companies like TechSmith continuing to invest in our state, we know that we will build back our state's economy stronger than ever before."
MSU President Dr. Samuel L. Stanley Jr., says, "We're pleased to welcome TechSmith to a location closer to our campus. They have been a great collaborator with the university for over a decade and this move will facilitate opportunities to further build upon our relationship."
TechSmith, which started in East Lansing 30 years ago, has been a long-time sponsor of MSU, bringing projects to MSU computer science students in the College of Engineering, such as Teacher's Virtual Toolbelt, Cloud-Based Video Tracking, and Video Sentiment Analysis.
"One of the College of Engineering's missions is economic development for the region and state of Michigan," says Leo Kempel, dean of the MSU College of Engineering and the Dennis P. Nyquist Endowed Professor. "As more technology-based companies, such as TechSmith, locate near MSU academic locations, there will be increasing opportunities for our students, faculty and departments to interact with those companies and get MSU innovations into the marketplace, creating more high-tech jobs in mid-Michigan and statewide."
In addition to its Design Day sponsorship, TechSmith recruits between 20-30 undergraduate students for summer internships each year. Many of those internships are extended beyond the summer, providing students the ability to work between 10-25 hours per week during the semester.
"The College of Engineering's capstone programs and Design Day would not be possible without the continued support and sponsorship of our strategic partners like TechSmith," says Wayne Dyksen, professor of computer science and executive director of Design Day. "TechSmith's generosity, time, and coaching of our capstone teams gives our students real-world challenges required in the next generation of engineering graduates."
Currently, TechSmith employs approximately 300 employees and intends to hire around 30 additional full-time positions across several areas of the business.
"Our proximity to campus is a competitive advantage," says Hamilton. "TechSmith will continue to recruit and retain talented individuals from MSU while becoming a foundational partner in the MSU Innovation Network."
The project is expected to generate a total capital investment of $15 million with the support of a $250,000 Jobs Ready Michigan performance-based grant from the Michigan Strategic Fund, awarded in December.
The MSU Foundation will serve as the developer for this new headquarter building and The Christman Company will serve as construction manager.
Facebook Comments