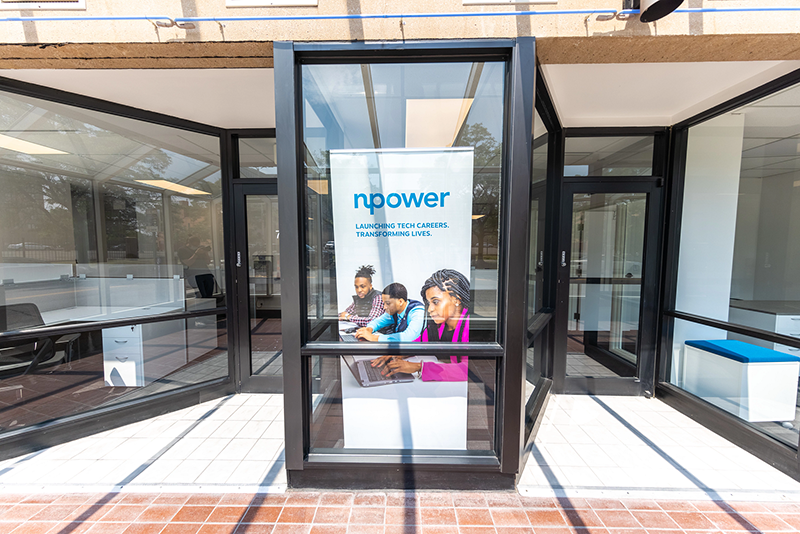 NPower, a leading tech training nonprofit organization, today announced its official opening in Detroit's New Center area, with a campus located in the Bedrock-owned Lothrop Landing at 116 Lothrop Road.
Located east of the Fisher Building on the ground floor of a parking deck at 116 Lothrop St. in Suite 104A, NPower creates pathways to economic prosperity by providing tuition-free digital career and skills training for military veterans and young adults from underserved communities.
Based in Brooklyn, NPower operates in Michigan, New York, Texas, California, Maryland, Toronto, New Jersey, and Missouri.
The organization's goal is to shape a diverse domestic technology workforce and clear pathways to career development, regardless of an individual's ethnicity, gender, or socio-economic background.
"The space is absolutely beautiful and provides accommodating access for local Detroiters with access to the QLine, public transportation, and multiple parking options," says Camille Walker Banks, executive director of Michigan for NPower. "We are so ready to welcome our next wave of students and immerse them into the culture and vibrancy of Detroit."
Prior to move, NPower trained more than 150 young adults out of Davenport University's Detroit campus. Nearly 85 percent of students completed the program, and the majority were able to start careers in tech-related fields with an average salary increase of 519 percent, NPower states.
Local hiring partners include Rock Central, Rock Auto, Google, Shift Digital, RT Software Systems, the State of Michigan, Blue Cross Blue Shield of Michigan, TCF Bank, Little Caesars Enterprises, and Accenture.
"NPower's community-focused mission is something Bedrock is proud to support," says Nadia Sesay, chief growth and development officer at Bedrock. "We are excited to welcome this non- profit to the city and witness more Detroiters further develop their skills alongside the NPower team."
Applications for the organizations fall session are now open. The session begins Tuesday, Sept. 7 and runs for 17 weeks, followed by a seven-week paid internship. Young adults between the ages of 18 and 25 are encouraged to apply here.
In Detroit, IT occupations grew by 12 percent in just the last two years and is expected to grow another 4 percent by 2023. The result is a growing demand for tech workers — especially junior, entry-level talent.
Bedrock is a full-service real estate firm specializing in innovative city-building strategies. Since its founding in 2011, Bedrock and its affiliates have invested and committed more than $5.6 billion to developing and restoring more than 100 properties in Detroit and Cleveland.
Facebook Comments