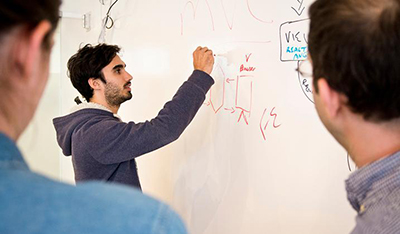 Global technical education provider General Assembly plans to expand into metro Detroit with the goal of providing individuals and organizations in the area with the digital skills they need to help them succeed in the 21st-century workforce.
"Dynamic fields like software engineering and data science are progressing in real time, so our approach to education and workforce training needs to be evolving in parallel," says Jake Schwartz, co-founder and CEO of General Assembly. "By working with corporate partners, hiring industry professionals, and leveraging our incredible alumni network, we're able to use data, feedback, and insights to ensure that our coursework results in maximum impact on the job. Our launch in Detroit reflects our commitment to making these changes from the ground up."
Demand for tech talent in Detroit continues to accelerate, with nearly nine in 10 metro area employers planning to expand their tech workforce this year. General Assembly's newest campus will be located in downtown Detroit in partnership with local co-working hub, Bamboo Detroit (1420 Washington Blvd.), and will host events, workshops, and classes beginning this month.
GA initially will offer its Software Engineering Immersive program and reskilling programs online before launching its immersive User Experience (UX) Design and Data Science programs early in 2020.
"General Assembly's presence creates even more opportunities to develop tech talent in the Detroit area," says Kiana McLeod, community manager at General Assembly, Detroit. "It's exciting to become a part of an ecosystem dedicated to bolstering the local workforce and economy."
General Assembly has grown its footprint to more than 25 locations worldwide since its launch in 2011, making it one of the leading source for training, staffing, and career transitions for companies and employees globally. Locations include New York City, Chicago, San Francisco, Paris, London, Singapore, Melbourne, and more.
As part of GA's commitment to leveraging technology to fuel workplace success, the company plans to launch five additional campuses by the end of the year.