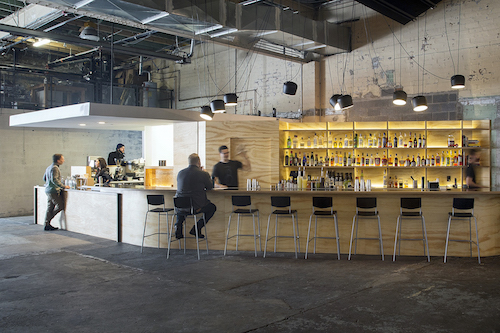 Following a soft opening over the weekend, the Detroit Optimist Society, a restaurant group in the city, will open Super Happy Sushi at Café 78 inside the Museum of Contemporary Art Detroit (MOCAD). The 80-seat space will be open five days a week, Wednesday through Sunday.
"Before when we were operating Café 78, it was difficult to bring in food for large parties because MOCAD doesn't have vents for a true kitchen," says Chef Marc Djozlija, a partner of the Detroit Optimist Society with Dave Kwiatkowski and managing partner, Charles Inchaustegui. The restaurant group includes Wright & Co., the Peterboro, Honest John's, and the Sugar House, all in Detroit.
"But with sushi now, we can accommodate much larger parties. We brought in Sushi Chef Rob Lee, formerly with the Townhouse (in Detroit), and we're going to see where this takes us. If we do expand the concept, we have lots of ideas of what we could do."
The menu will include Miso soup, seaweed salad, spicy tuna and eel selections, and numerous sushi rolls and specialty plates. In addition, there will be a new offering of craft cocktails, sakes, and wines that complement the cuisine.
Super Happy Sushi at Café 78 will be open from 11 a.m. to 8 p.m. on Wednesday and Thursday, 11 a.m. to 10 p.m. on Friday and Saturday, and noon to 5 p.m. on Sunday. MOCAD is closed on Monday and Tuesday.
In other news, the Detroit Optimist Society plans to open a speakeasy called the Bad Luck Club before the holiday season. The 45-seat space will be located off of an alley in Detroit's Capitol Park district.
Facebook Comments