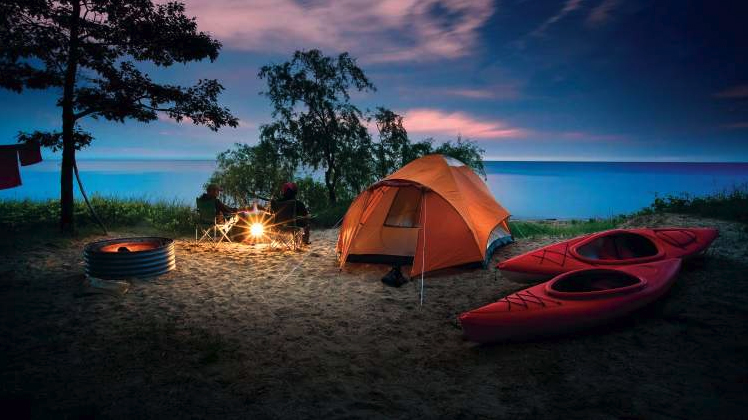 A pattern of mild, yet warm, weather, more tourist activities, and enhancements to area golf courses and resorts have contributed to one of northern Michigan's most successful summers. In fact, this weekend is expected to be the most active Friday-Sunday period in 2019 for the region's golf industry, including the Gaylord Golf Mecca.
"The summer of 2019 has been outstanding with 11 destinations and three new flights providing growth of nearly 15 percent year over year," says Kevin Klein, director of Cherry Capital Airport in Traverse City (TVC). "June growth showed 28.7 percent year over year growth; July was up 15 percent; and August is on pace for record delivering. And the fall color season is expected to be one of the best yet."
The record air service is part of a coordinated marketing effort between Traverse City, Petoskey, Charlevoix, Mackinac Island, Gaylord, and Cherry Capital Airport. Together, with a $15 million collective marketing budget, the group is promoting non-stop air service in the Texas market, among other in-bound markets.
The region also has increased activities and events, including the inaugural Ironman Triathlon 70.3 in Traverse City which drew more than 2,500 athletes and thousands of spectators. Golf courses in the area have reported strong revenue this summer, including Treetops Resort in Gaylord, The Bear at Grand Traverse Resort, Petoskey's Bay Harbor, Charlevoix's historic Belvedere Club, and Mackinac Island's Wawashkamo, which opened in 1889 and is Michigan's longest operating golf club.
"Part of the mission of the Gaylord Golf Mecca is to attract new business, and increasing travelers and golfers from Texas has been a primary focus for us for six year running. We've had measurable success year over year in both rounds of golf and room nights," says Paul Beachnau, tourism director of Gaylord. "We now are pursuing additional markets with extended reach such as Oklahoma, the East Coast — NYC, Hartford Conn., Georgia, and Canada.
In addition to completing a major streetscape program in downtown Gaylord, the city soon will see the opening of two hotels — AC by Marriott and American Inn and Suites. That comes on the heels of the recent opening of a Fairfield Inn.
"Our collective efforts paired with the initiatives to grow non-stop services by TVC Airport is paying off in spades," says Barry Owens, general manager at Treetops Resort. "The growth in the number of golf rounds and room revenues are representative of the hard work on so many folks' part. The Discover Northern Michigan collective allows for more marketing prowess in our out-of-state markets. Treetops Resort alone is seeing more out-of-state guests."
Business owners on Mackinac Island also reported higher sales. "Tourism has been very strong this season in northern Michigan, and Mackinac Island was no exception," says Bob Benser, principal of the Cottage Inn and the Original Murdick's Fudge shops. "The Pure Michigan campaign paired with TVC Airport and the Discover Northern Michigan Collective are together reaching a national audience. More and more visitors are enjoying our fresh water state and its four seasons. As TVC Airport grows by adding more non-stops flights our 'little piece of paradise' continues to welcome guest from every corner of the globe."
Facebook Comments