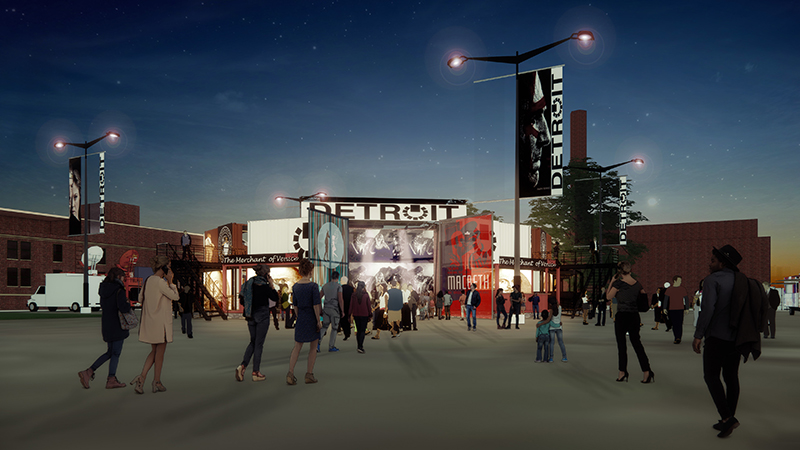 The Container Globe Theatre, an almost exact replica of Shakespeare's historic Globe Theatre in the London Borough of Southwark originally built in 1599, is getting closer to becoming a reality in Detroit.
Assembled from repurposed shipping containers that will provide space for engaging, intimate, and interactive theatrical performances, the Detroit Globe is planned to be positioned on the grounds of the former Herman Kiefer Hospital just off the west side of the Lodge Freeway in the Virginia Park neighborhood.
"After seven years of development of the project and preparation of the containers in Detroit, we're ready to go," says Angus Vail, impresario of The Container Globe and a New Zealand native who has spent most of his career as a business manager for various rock bands, but who's first love is Shakespearean theatre.
The 28 containers which were modified in Detroit are now at the Herman Kiefer site and ready to be assembled to create the theatre. The containers that will form the seating galleries and the theatre's backstage will be arranged in a ring, and stacked two high, with seating for 400 people.
Additional audience members, known as "groundlings," as they were called centuries ago, will stand in the center in front of the stage allowing for total audiences of 800 to 1,000 people.
"This project has pretty much dominated my life the past few years," says Vail. "It will be unique — the first theatre of this kind ever built of shipping containers and will preserve the up-close and interactive experience similar to that of Shakespeare's theatre in London.
"The design has already won several national and international architectural awards and we have the endorsement of the London Globe, plus even an indication that they may send one of their productions to Detroit. Now we hope we can obtain the endorsement of the Detroit City Council."
Vail says he chose Detroit as the location for his theatre due to the city's musical and theatrical history, its designation as the first UNESCO City of Design, and its substantial market for Shakespearean theatre. He notes approximately 40 percent of the patrons of the Stratford Festival in Stratford, Ontario, come from Detroit and Michigan.
In addition to theatrical productions, the plan is to utilize the Container Globe for musical and dance performances, educational events, and community activities. Food trucks may be parked around the site, as well.
The performance season is planned to run from April through October, with possible events like Christmas markets in the winter.
"Shakespeare's theater was unique in its day with the audience and actors close enough to see and interact with each other," says Vail. "We'd love to replicate that in Detroit. It's more fun for the audiences and the actors and it would be a whole new way for American audiences to enjoy theatre. Where better than Detroit to give it a try?"