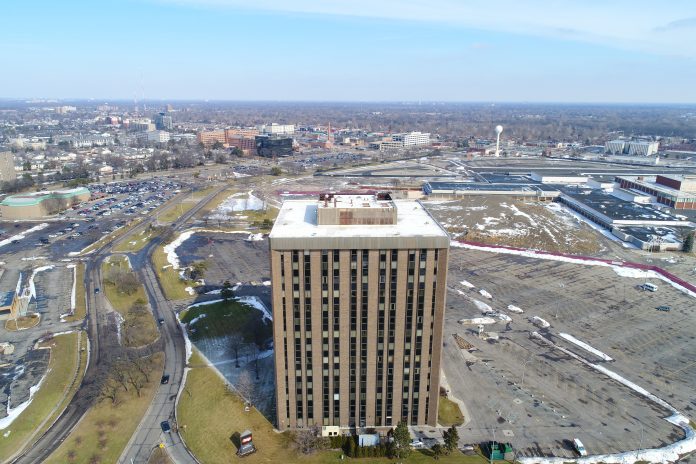 JLL's Detroit office today announced it will partner with developer Sharnosa in Farmington Hills to handle leasing and sales at Tower 14 in Southfield, located just north of the former Northland Mall at 21700 Northwestern Highway.
The building, originally developed by J.L. Hudson Co. as its administrative headquarters, offers 255,000 square feet of space on 14 floors. About 18,182 rentable square feet are available per floor.
Over the course of a major renovation, more than $10 million has been invested in capital improvements and updates. Ten of the floors have been completely renovated, rebuilt, and furnished. Amenities include onsite access to public transportation, onsite property management, a cafeteria, free secured parking, a generator, and available crown building signage.
J.P. Champine, JLL executive vice president, and Ben Schrode, vice president, will oversee leasing and sales activities.
"Tower 14 presents a unique opportunity for both investors and tenants alike," says Champine. "With all of the recent improvements, there are few properties anywhere in metro Detroit that are both this affordable and this move-in ready for a large corporate headquarters tenant."
In addition to a corporate tenant, other prospects include government, health care, and nonprofit organizations, says Matt Wilson, principal of Sharnosa.
JLL specializes in real estate and investment management globally. In 2017, JLL had revenue of $7.9 billion, managed 4.6 billion square feet, and completed investment sales, acquisitions, and finance transactions of approximately $170 billion. At the end of 2017, JLL had nearly 300 corporate offices, operations in more than 80 countries, and a global workforce of about 82,000 people.
Facebook Comments