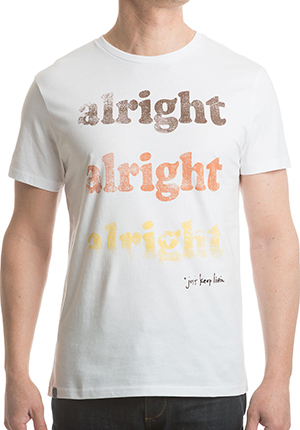 TMV Group, a branding, marketing, and advertising agency in Royal Oak, has launched an e-commerce site for an international, humanitarian clothing brand inspired by Academy Award-winning actor Matthew McConaughey.
The just keep livin clothing line is a collection of nostalgic casual wear for men and women that includes woven shirts, graphic tees, and shorts that are crafted with the customer's journey through life in mind.
"We help brands of all kinds get their products fully engaged in the rapidly growing e-commerce channel," says Scott Thornton, founder and managing partner of TMV Group. "We work seamlessly with our partner network so we can provide our clients with everything e-commerce, from click to ship."
Phrases that hold special meaning to McConaughey, such as the popular "Alright, Alright, Alright" and "Find Your Frequency," are featured on the signature graphic T-shirts in the collection. A portion of every sale is donated directly to the just keep livin Foundation, a health, fitness, and service program for Title 1 schools in inner cities across the country.
Last November, TMV Group partnered with Grand National Apparel of Toronto, led by Jeff Otis, president and CEO, to provide complete branding, marketing, and e-commerce services for the just keep livin brand.
"TMV shares the same positive ideas as we do for the just keep livin brand and for our future," says Dennis Harrington, director of marketing for Grand National Apparel.
Founded in 2006, TMV Group is a branding/marketing agency that expanded to work with manufacturers and retailers in the growing e-commerce space.
Just keep livin products are available for purchase at JustKeepLivin.com.
Facebook Comments