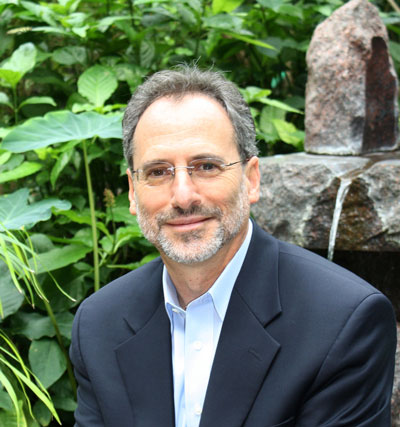 Ron Kagan has announced he will retire this summer from his role as executive director and CEO of the Detroit Zoological Society, which is based in Royal Oak. He served in his position for 28 years. Tony Earley, chair of the society's board, has formed a search committee to identify a successor.
"I've been in love with DZS and this community from the day I arrived," says Kagan. "So many extraordinary employees, volunteers, donors, and board members have contributed to creating and securing the future of this amazing organization.
"There have also been many great civic leaders who have helped DZS survive and thrive through the years that included transitioning the Detroit Zoo from city of Detroit governance and securing the community's support through two successful millage campaigns. I am incredibly grateful to have been a part of the continuing development of DZS."
Under Kagan's leadership, visitation doubled, and membership tripled. He has led the development of facilities including the Arctic Ring of Life, Ford Education Center, National Amphibian Conservation Center, Wildlife Interpretive Gallery, Cotton Family Wolf Wilderness, Mardigian River Otter Habitat, Polk Penguin Conservation Center, Holtzman Wildlife Foundation Red Panda Forest, Australian Outback Adventure, Ruth Roby Glancy Animal Health Complex, and Devereaux Tiger Forest.
"During Ron's tenure, the education division has grown from two people to more than 20 professionals, and conservation programs now reach every continent," says Earley. "Ron has been a tireless advocate for diversity in the sector; DZS was recognized with the 2015 diversity award by the Association of Zoos and Aquariums (AZA).
"In the same year, the Detroit Zoo was also named the greenest zoo in the U.S. by AZA and the best managed nonprofit by Crain's Detroit Business. For nine consecutive years, DZS has received the highest rating from Charity Navigator, placing it in the top 3 percent of all U.S. charities. For those reasons and many more, we appreciate Ron's visionary leadership."
While Kagan was executive director and CEO, the society's Greenprint sustainability program led to the zoo's transition to 100 percent renewable energy.
The zoo also created the Center for Zoo and Aquarium Animal Welfare and Ethics during Kagan's tenure. The center rescues hundreds of exotic animals, including a polar bear from a circus and lions from a junkyard. In 2004, the Detroit Zoo became the first to decide to no longer keep elephants in captivity for ethical reasons and sent elephants Winky and Wanda to a large sanctuary in California.
Kagan will continue to advance the society's strategic plans over the next several months. He is also leading the international team that is revising the World Association of Zoos and Aquariums code of ethics.
The society includes the Detroit Zoo, Belle Isle Nature Center, and Great Lakes Center for Nature, which is expected to open in Macomb County.
---