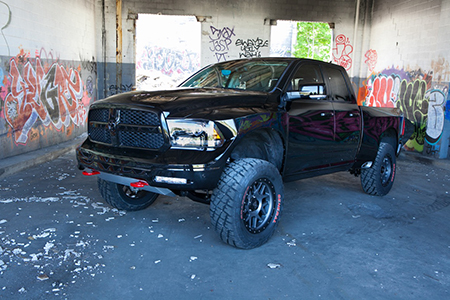 Rochester Hills-based Prefix Corp. has launched the Minotaur Dodge Ram 1500 truck after-market conversion. The vehicle features wide-body fenders integrated into custom bumpers and a large suspension package.
"The idea of it is to take the DNA and heritage of an off-road desert race truck and put it into a vehicle that can be used on the street, but (the driver) could take out in the desert," says Eric Zeile, president of Prefix Corp., which provides design and engineering services to the auto industry.
Zeile says the Minotaur is modeled after a truck used to drive to a desert race, and then pre-runs the course before the race officially begins.
"It's got a big suspension package on it, which gives it a lot of lift and a lot of travel, for when (the driver is) in the desert and hitting jumps," Zeile says. "It gives that, but at the same time (the customer) can drive it everyday."
Zeile says Prefix Performance put a different body on the rear bed. He says the front fenders stick out and integrate into a "low-profile front bumper."
Prefix is now in the process of getting boutique, high-end dealerships across the country signed up to sell the Ram conversion, with a goal to have 25 to 150 authorized dealers. Pricing for the vehicle has not been announced.
Prefix Performance was founded after the acquisition of Auburn Hills-based Arrow Racing Engines, which develops, builds, and repairs Dodge Viper engines. Prefix Performance built and sold Viper convertibles, and chose the Ram 1500 as its next project because unlike the Viper, it's a high-volume vehicle.
"We'd want to add spin to any vehicle that feels like it wants something more than what it's got offered by the OEM," Zeile says. "We're trying to fill the void for a small market segment on a vehicle that doesn't have that."
Prefix Corp., founded in 1979, operates six facilities across metro Detroit. The company creates vehicle models, offers high-tech paint and finishing, and designs luxury interiors, among other offerings. Prefix built the most recent Lincoln Continental concept car and paints all of the Dodge Viper vehicles.
---