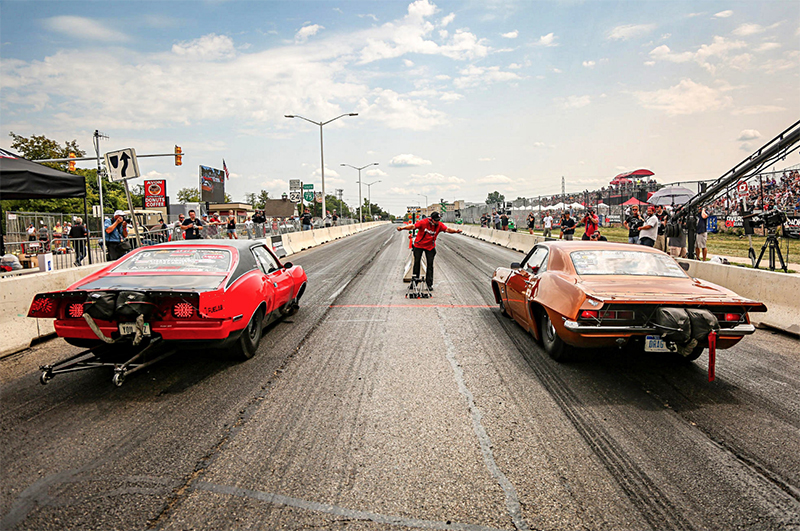 Roadkill Nights Powered by Dodge legal street racing returns to Woodward Avenue and the M1 Concourse in Pontiac, Friday and Saturday Aug. 9-10. It's the fifth consecutive year the event drops the green flag that leads into Woodward Dream Cruise week.
This year, in addition to street legal drag racing on Saturday, fans will be able to meet the drivers of some of the fastest street legal drag cars in America and watch historic Woodward Avenue transform from a street into a drag strip on Friday.
On Saturday, drag racing returns with two classes, Big Tire and Small Tire, competing for a cash purse of $30,000. As part of the overall $40,000 purse, $10,000 will be awarded to United Way. Both drag racing classes will have the same payout structure with $15,000 as the total purse per class with the winner claiming $5,000, the runner up $1,500, semi-finalists $750 each and quarter finalists $500 each. In addition, the fastest Dodge-powered vehicle will claim $5,000.
"Roadkill Nights Powered by Dodge continues to grow each year since we introduced this event five years ago, so we're answering enthusiast demand by adding a day of fun so even more people can participate in the celebration of America's muscle car culture," says Mark Malmstead, head of Dodge//SRT Marketing. "It's also a great opportunity for participants to race in a sanctioned environment on historic Woodward Ave."
In addition to meeting the drag racers on Friday between 3-9 p.m., the event's first day will offer a burnout contest, dyno competitions, free Dodge skid pad drift rides in a 717-horsepower Dodge Challenger SRT Hellcat and a 707-horsepower Dodge Charger SRT Hellcat, Dodge simulators, freestyle motocross stunt shows, food and beer trucks, and a family fun kids zone.
The drag races will be run on Saturday between 10 a.m. and 9 p.m., in addition to Show 'N' Shine and all of the other events and activities from the previous day.
Dodge-sponsored NHRA stars Leah Pritchett and Matt Hagan will be on hand as well as other celebrities who will go head to head on Woodward.
"Roadkill Nights truly brings the thrill of finger-clenching, top-speed drag racing to life on Woodward Avenue, which is why we love to bring this event to our Roadkill fans," says Freiburger, co-host of the "Roadkill" TV show. "Going on our fifth year, we're adding activities on Friday night so there's more time for everyone — drag racers, families, foodies and anyone who is looking to have a great day or evening filled with unparalleled fun at an iconic location."
Spectator tickets, which range from $5 to $20, and Show 'n Shine and racing registration are available here.
Facebook Comments