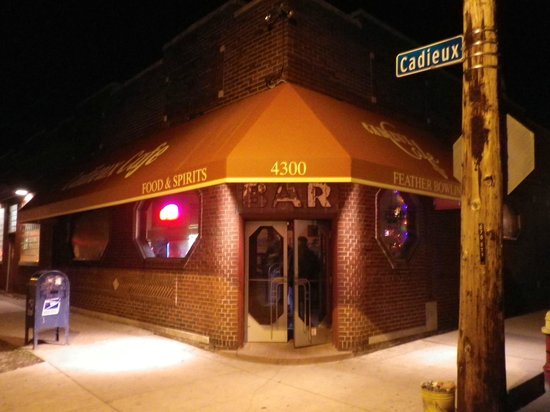 The owners of the Cadieux Café on Detroit's east side today announced that they have sold the iconic bar and restaurant to Paul Howard, co-owner of Cliff Bell's in downtown Detroit, and local musician John Rutherford, effective Jan. 1, 2019. Terms of the deal were not disclosed.
Founded in the early 1930s by a pair of Belgian immigrants, the Cadieux Café (4300 Cadieux Rd.) offers a wide selection of European beers, an extensive menu that includes steaming hot mussels dressed in a variety of sauces, and feather bowling.
Cadieux is one of only four locations in the world — outside of Belgium — that hosts a feather bowling league. Since its days as a Prohibition-era speakeasy, the Cadieux Cafe has been a social hub for metro Detroit's Belgian population.
The Cadieux Cafe has been owned by the Devos family since 1962. They've been careful to maintain the place's old-world charm and traditions, but they've also made it more accessible to the masses, bringing in live musical acts and making appearances on television shows such as the late Anthony Bourdain's "No Reservations." The owners are Ron Devos and Paul Miscuraca.
In a statement, the Devos and Misuraca family said they "are proud of the 55-plus years we've served the community and are grateful to each and every one who has been a part of our long run at the Cadieux Café. We feel that John and Paul are the perfect fit to keep our family's Belgian legacy alive as well as usher in a new generation of traditions that will ensure the Cadieux Café's place as an east side mainstay for years to come."
The menu includes a Holland patty melt, Peter Paul Rueben, roast beef dinner, Belgian sausage, broiled salmon, spinach potatoes, fish and chips, soups and chili, salads, chocolate sundaes, among other dishes.
"We're looking forward to carrying on the legacy left by the Devos family and those who ran it before them," says Rutherford. "We might not be the caliber feather bowler as they are, but we will have plenty of time to practice."
The restaurant will continue to operate, and all reservations will be honored. The hours are Monday and Tuesday, 4-11 p.m.; Wednesday through Saturday, 4 p.m. to 2 a.m.; and Sunday from 2-10 p.m.