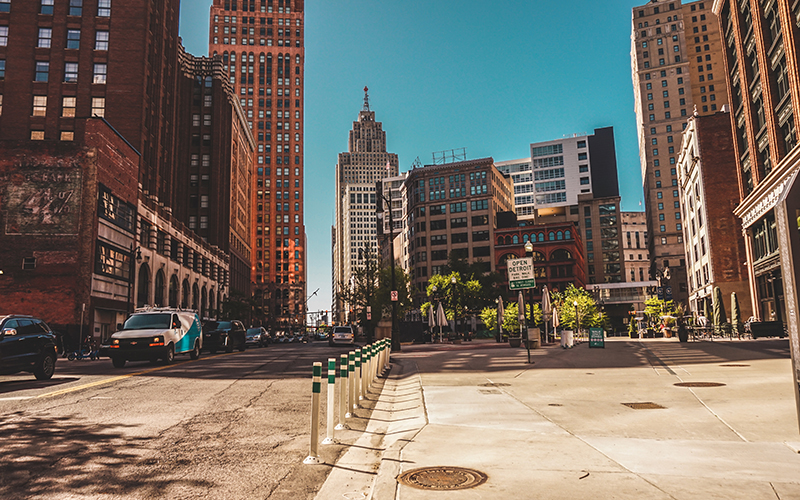 State government officials joined leaders form the Detroit Regional Chamber, private industry, and Digital Lakes to discuss Global Detroit's newest research, chronicling the growing importance of international student talent to the state's economic competitiveness.
"Attracting and retaining the talented students at our world-class universities is key to growing our economy, creating jobs, and building on Michigan's heritage of innovation," says Lt. Gov. Garlin Gilchrist II.
"Global Detroit's report highlighting international students' $825-plus million in annual contribution to Michigan's economy shows the importance of building on our budget investment in statewide global talent retention efforts."
The research report documents the exponential growth of international student talent in Michigan's economy over the past decade, chronicling a 330 percent growth rate in the annual number of international student graduates hired by Michigan employers.
Global Detroit's study was based upon first-of-its-kind data obtained by the Pew Research Center tracking international students working in the U.S. under their student visas after graduation.
Using Freedom of Information Act (FOIA) requests, Pew assembled the records of more than 1 million international students working in the U.S. from 2004 to 2016. Global Detroit's analysis of this data, combined with other public data sources, paints a picture of the importance of international student retention
Specifically, Global Detroit's report "International Student Talent in the Michigan Workforce: A Growing Solution to the Talent Gap" points out that:
International students accounted for 74 percent of all the graduate students in electrical engineering, 72 percent of all the graduate students in computer sciences and more than 50 percent of all the graduate students in industrial and manufacturing engineering, mechanical engineering, mathematics, and other critical fields of study at U.S. colleges and universities.
Michigan colleges and universities had 27,500 international students in 2020-21, the ninth-largest international student population in the nation. These students contributed over $825 million in economic activity to Michigan's economy.
Nationally, while international students comprise 12 percent of the students enrolled at public colleges and universities, they provide 28 percent of the tuition dollars.
Michigan employers hired more than 40,000 international students from 2004 to 2016 and was the 10th-largest employer of international students working under their student visas.
The number of international students hired annually by Michigan companies grew throughout this thirteen-year period and by some 330 percent over the period studied.
Nearly 9,000 international students were hired by Michigan employers in 2016 alone.
International students from Michigan colleges and universities were nearly as likely to remain in Michigan for their employment as in-state students as some 60 percent of the students studying at Michigan schools who worked on their student visa stayed in-state.
"This is groundbreaking research that no other state has produced," says Steve Tobocman, executive director of Global Detroit. "The state of Michigan's recent appropriation of funds, combined with the region's recent $52 million federal Economic Development Administration grant to build a global epicenter of mobility, will enable Global Detroit, regional chambers of commerce, and economic development organizations across the state, industry groups, and companies to build talent pipelines that clearly position our state as a global leader in talent attraction and retention."
The research report is part of an ever-growing body of Global Detroit research on the benefits of building an immigrant-inclusive economy. Global Detroit worked with the University Research Corridor, University of Michigan, Michigan State University, Wayne State University, University of Michigan-Dearborn, Eastern Michigan University, Oakland University, Lawrence Technological University, and private sector advocacy groups to launch the Global Talent Retention Initiative.
This 2011 program was the nation's first international student retention program with support from the New Economy Initiative. Over the past decade, GTRI has worked with scores of Michigan companies, hosted job fairs and employer legal workshops, and supported thousands of international students in preparing themselves of entering the Michigan workforce and connecting with unmet talent needs in the Michigan economy.
GTRI is one of several initiatives funded in Michigan's fiscal year 2023 budget to expand economic development and talent programs that attract and retain global talent. The $5 million allocation, combined with national leading programs at Global Detroit, the Office of Global Michigan, Detroit Mayor's Office of Immigrant Affairs, and growing welcoming initiatives across the state position Michigan as a national leader in an emerging area of public and economic policy focusing on immigrant-inclusive economic development.
Funding for this research was provided by Fakhoury Global Immigration, OpTech Solutions, and the William Davidson Foundation, while pro bono research services were provided by One Magnify. To access the research report, click here.
Facebook Comments