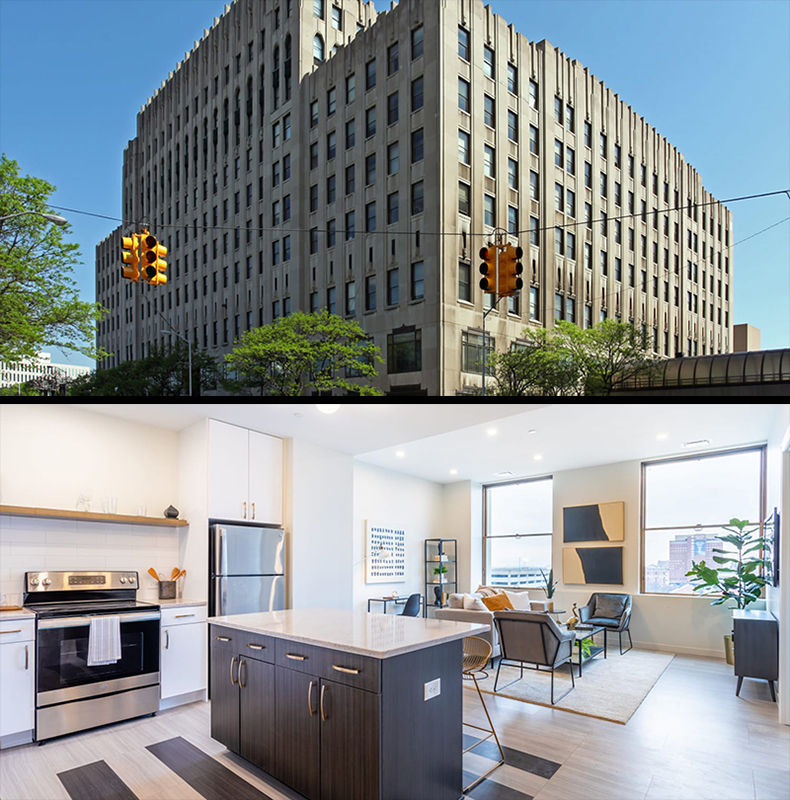 Birmingham-based Lutz Real Estate Investments and Farmington Hills-based Northern Equities Group announced today the completion of a $70 million renovation of The Albert Kahn Building at the intersection of Second Street and Lothrop Road in Detroit's New Center, a joint venture from the companies now called The Kahn Apartments.
"The Albert Kahn Building was originally designed as one of the crown jewels of Detroit," says Adam M. Lutz, CEO of Lutz Real Estate Investments. "That was the mindset that we had when designing these apartments and restoring a historical landmark. Each of the 700 original windows was removed, hand restored, and re-installed back in their original location. It's the attention to these types of details that have impressed visitors and led to significant leasing results."
The renovation included the conversion of office space from floors two through 11 into 206 one-, two-, and three-bedroom apartments with floor plans ranging from 530 square feet to 1,317 square feet. Penthouse units feature an interior stairwell unique to each apartment. The interior design was handled by Detroit-based Kraemer Design Group.
The building offers expansive views of the city and offers its residents a complete list of amenities. Two lounges — The Drafting Room and The 1931 Room — offer both workplaces and social gathering areas. It also offers a 3,000-square-foot fitness center and the Diamond K Club, an outdoor rooftop deck with grilling stations and seating.
"Our ultimate goal was not only to keep the grandeur of the building, but to improve and modernize where we saw opportunity," says Matthew Sosin, president of Northern Equities Group. "We have been able to establish contemporary, modern homes while honoring the overall legacy of one of Detroit's treasures. We believe everyone in Detroit will be proud of the results and expect The Kahn to further engage the New Center and Midtown North neighborhood."
The 11-story, 320,000-square-foot Art Deco building first opened in 1931. It was designed by famed architect Albert Kahn and built by the Fisher Brothers as a home to prestigious businesses, including Kahn's architecture firm and Saks Fifth Avenue. The Saks space has 18-foot-high ceilings and large windows and is available for an office, showroom, or retail tenant.
The Kahn will be managed by Farmington Hills-based Beztak. A grand re-opening ceremony is expected in September.
To learn more, visit here.
To read a profile of Albert Kahn in DBusiness, visit here.
Facebook Comments