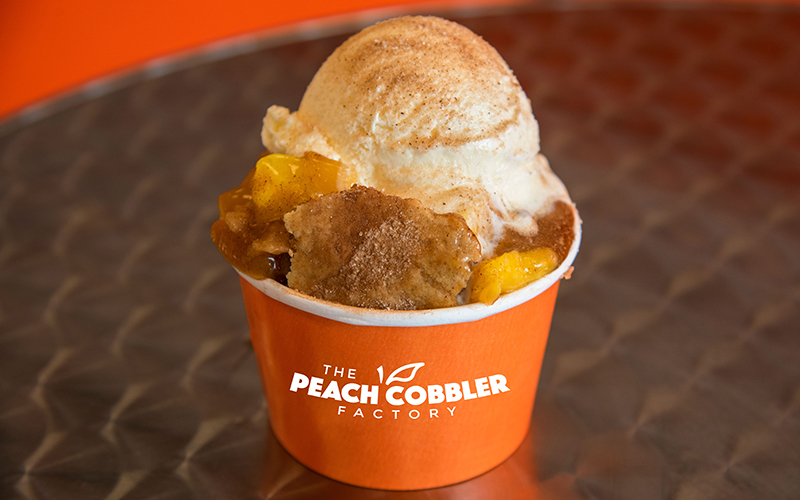 Peach Cobbler Factory, a family style dessert shop with old fashioned cobbler, cinnamon rolls, banana pudding, and more, has announced the signing of a multi-unit agreement with Greg George and Eric Slayter Jr. to build eight new retail franchises in metro Detroit.
The first location, announced on the company's Facebook page, will be located at 1300 Broadway St. in downtown Detroit (northeast corner of Broadway and Gratiot Avenue). The store is expected to open this summer.
The company's corporate website lists future locations coming to Birmingham, Canton Township (2 stores), Livonia, Saline, Troy, and Ypsilanti.
Flavors of cobbler available at the dessert shop include peach, cinnamon praline peach, strawberry peach, blackberry peach, mango peach, honey apple, caramel apple, apple walnut raisin, strawberry, blackberry, and cherry.
Its cinnamon roll options include vanilla, Nutella, and a cobbler stuffed cinnamon roll. The banana pudding offerings include original, Oreo, strawberry, and Nutella. All cobblers and banana puddings are topped off with a scoop of ice cream.
Nashville-based Peach Cobbler Factory has multiple revenue streams for franchisees, from a quick service dessert bar, catering, mobile units, and delivery options.
The startup for a Peach Cobbler Factory is $65,000 to $125,000, and the startup time is 60-120 days.
For information on franchise opportunities, click here.
---