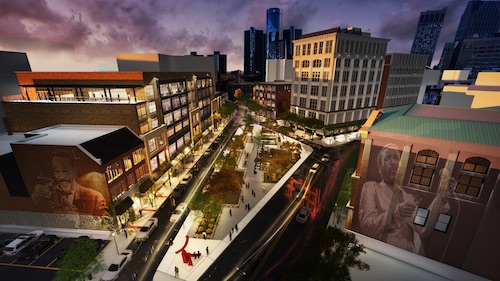 Rainy Hamilton, principal of Hamilton Anderson Associates in Detroit, plans to break ground early next year on a four-story, 16,000-square-foot building that will adjoin the architectural and design firm's headquarters along Randolph Street in the city's Paradise Valley district.
To be built on what is now a surface parking lot on the north side of Hamilton Anderson's building at 1435 Randolph St., the new structure will offer added room for the firm, which has close to 75 employees. Hamilton Anderson also plans to lease out its lower level space in the Randolph Centre Building, (below), for a jazz club.
Earlier this summer, the Detroit Development Authority, which owns the majority of the surface land and buildings in the district, the epicenter of which is a triangular space called Beatrice Buck Park, approved a $52.4 million plan to have private companies redevelop nine properties in the area.
"We hope to be the architect for all of the projects," says Hamilton, who founded his firm in Detroit 22 years ago. "Just north of our new building, we are leaving room for a very nice public alley with a jazz theme that will be similar to The Belt (public alley) next to the Z Lot (a parking deck at Broadway and E. Grand River). The alley will essentially connect Randolph to Gratiot."
Hamilton says the new building and the jazz alley are scheduled to open in the first quarter of 2018. The Detroit native is also working with Music Hall and GFI Development Co. in New York, which is in the process of acquiring the Hilton Garden Inn at Gratiot and Brush, on a plan to create a mixed-use development behind the hotel that would include a parking deck.
"With all the new development coming to the area, we need to create room for added parking, especially since we are in a growing entertainment district," Hamilton says. "We really see Paradise Valley as a go-to entertainment district throughout the week and before and after cultural and sporting events." 
Along with creating a nonprofit organization called the Paradise Valley Cultural and Entertainment Conservancy to oversee the overall district, the DDA, working with Detroit Economic Growth Corp., approved the following projects in the district, some of which are underway or are in the process of finalizing financial plans. The plans include:
Hastings Place: Paradise Valley Real Estate Holdings II led by Hiram E. Jackson as managing partner, plans to build a new 83,340-square-foot building on three current parking lots at 1468, 1480, and 1496 Randolph St. It will include 60 apartments on the top floors, a five-story parking deck, and first floor retail spaces. The project is located next to the building that Jackson's company, Paradise Valley Real Estate Holdings I, is renovating as the new home of Real Times Media and the Michigan Chronicle. Total expected investment is $27 million, including a purchase price of $1 million.
Harmonie Club Hotel: 311 E. Grand River, LLC, led by Patricia Cole and Roger Basmajian as partners, plans to renovate the 36,000-square-foot building at 311 E. Grand River as the Harmonie Club Hotel, a 25- to 30-room boutique hotel on the first and second floors, which will include artwork from local African American artists. The third floor theatre will be completely refurbished and function as a theatre and banquet hall. The total expected investment is $13.6 million, including a purchase price of $1.6 million.
Harmonie Pointe: Gotham Capital Partners, led by Dennis Archer, Jr. as managing partner, plans to renovate 1407 and 1427 Randolph St. with a music forward lounge and restaurant on the first floor, and offices in the two upper floors. The total investment in the 17,328-square-foot building is expected to be $2.7 million, including a purchase price of $976,000.
La Casa Cigars and Lounge: La Casa Properties, LLC, led by Ismail Houmani as principal, plans to purchase and refurbish the 7,500-square-foot building at 1502 Randolph St., in which he now operates La Casa Cigars and Lounge. The Cigar Lounge and retail store will remain on the first floor; a VIP Lounge will remain on the second floor; and existing apartments will be reconfigured on the upper two floors. The total expected investment is $1.5 million, including a purchase price of $1.2 million.
Facebook Comments