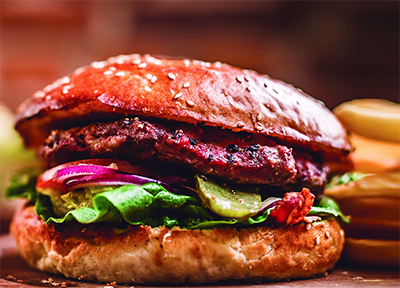 A fast-casual restaurant called Brome Burgers & Shakes that will feature organic and grass-fed beef burgers will open in downtown Dearborn next month.
"When I was living out on the West Coast, I just felt like there was nothing (in metro Detroit) that promoted the outdoor feel and just an organic environment with more sustainable practices, (like using) reusable utensils instead of plastic wear," says Dearborn-native Sam Abbas, owner of Brome Burgers & Shakes.
Abbas says the 3,700-square-foot restaurant, to be located at 22064 Michigan Ave. just west of Oakwood Blvd., will offer organic and fresh burgers, custard made in-house, and house-cut Kennebec potatoes (medium- to late-maturing white potato).
"I know burgers may not be the healthiest option but there's definitely a healthier way of approaching it," Abbas says. "(Regular burgers) just kind of weigh you down, but when you actually eat the organic burger you don't feel that at all." 
Prices range from $9 for an all-natural Angus burger, $9 to $11 for a salad with ingredients such as kale or quinoa, and about $4 for a shake.
He says the newly renovated space will feature floor to ceiling windows, white subway tile, and sunlights. There will be an organic living wall that spans 35 feet and is self-fertilizing and draining. The tables are made with wood from Reclaim Detroit, which derives materials from Detroit's vacant structures.
"We kept a really rustic feel on the inside of the restaurant — a rustic, clean, fine line feel," Abbas says.
Abbas has also opened Yogurtopia, a self-serve frozen yogurt shop in his hometown. The shop, which just opened its first franchised locations in Brighton and Dearborn this month, follows similar principles as Brome Burgers & Shakes by offering organic smoothies, fair-trade coffee, and probiotic-rich yogurt.
Restaurants that have recently opened in Dearborn include Brera Pizza & Salad Co., a fast casual restaurant featuring thin-crust pizza, salads, and wraps; and Dearborn Brewery — the city of Dearborn's first microbrewery.
Brome Burgers & Shakes will officially open Oct. 16.
---