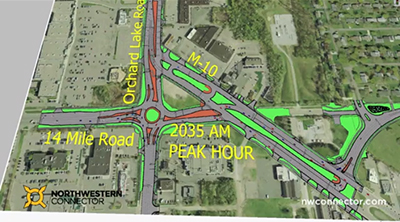 As part of the Northwestern Connector project, Oakland County will move forward next spring on the construction of a roundabout at one of the region's busiest intersections — 14 Mile and Orchard Lake roads — just south of Northwestern Highway (M-10). The project is part of more than $40 million in improvements near and along Orchard Lake Road in West Bloomfield Township and Farmington Hills.
"The roundabout is funded, and we're moving forward with it because it's needed," says Oakland County Executive L. Brooks Patterson. "This is all about improving traffic flow and enhancing economic development for our residents and businesses."
Along with the roundabout, the Road Commission for Oakland County, Michigan Department of Transportation, West Bloomfield, and Farmington Hills are planning to expand Orchard Lake between 14 Mile and Maple roads to a four-lane boulevard. As part of the project, which is slated to start in the next two years, the intersection of Maple and Orchard Lake will receive additional right and left turn lanes.
Still to be determined is whether the service drive along both sides of Orchard Lake, between 14 Mile and Maple, will be eliminated. If the project is approved, driveways along Orchard Lake will be constructed to improve access to stores, restaurants, and office buildings. New pedestrian safety paths and SMART stops will also be added.
Other plans include a low-speed bypass where Powers Road meets Orchard Lake and Daly Road meets Maple (near the southwest corner of Maple and Orchard Lake). Powers and Daly roads will be expanded to three lanes with the addition of a curve or roundabout where they intersect near the post office.   
Oakland County, MDOT, and the respective local communities are planning to add roundabouts at 14 Mile and Drake, 14 Mile and Haggerty, and Maple and Haggerty. In recent years, roundabouts have been added at 14 Mile and Farmington, Maple and Farmington, and Maple and Drake.
Long term, Maple Road, from Orchard Lake to Haggerty, will be widened to a four-lane boulevard, while 14 Mile, from Orchard Lake to Haggerty, will be widened to three lanes.
Facebook Comments