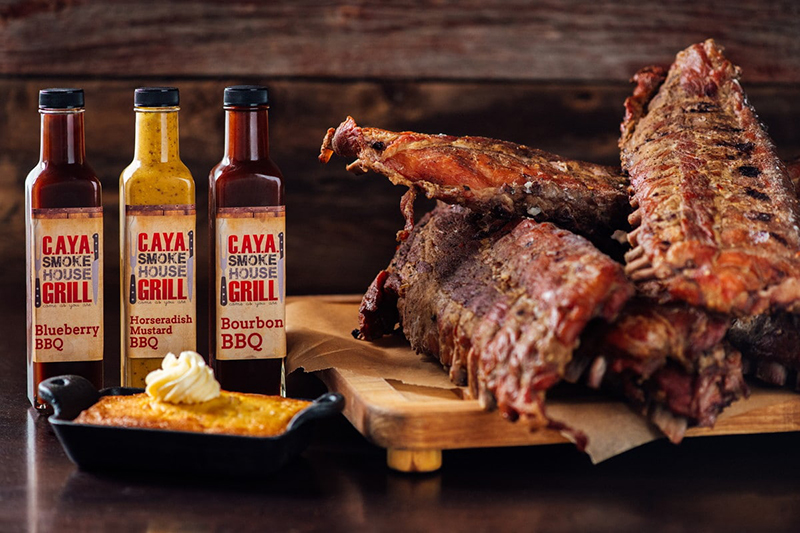 C.A.Y.A. Smokehouse Grill on S. Commerce Road in Wolverine Lake is under new ownership and management after six years in business.
The new owners are Damian and Dianna Knight, and Brandon and Jami Blanchard. Damian Knight will take over as general manager. The restaurant was originally designed and opened by executive chef Jeff Rose and his business partners, Richard and Rachel Mandell, in July 2013,.
"We immediately fell in love with C.A.Y.A.'s amazing menu after our first visit," says Damian Knight. "We have some fun new ideas we will be implementing over the next few months and are looking forward to continuing to enhance our customer's dining experience."
C.A.Y.A.'s dinner and brunch menu will remain largely the same, however, there will be a few changes. The smokehouse bistro now will offer French fries and jumbo chicken wings. All featured smoked entrees also will come served with a choice of two side items instead of the side items being a la carte.
Guests will be able to choose from corn bread, mac and cheese, French fries, fried brussels sprouts, mashed potatoes, roasted broccoli, collard greens, fried sweet potatoes, baked beans with bacon, onion rings, creamy cole slaw, or pickled vegetables.
"We wanted to offer our customers a better value with our smoked entrees and decided to include the side items for a more complete meal," adds Knight.
C.A.Y.A. Smokehouse Grill is open for happy hour and dinner Tuesday through Thursday from 4:30-10 p.m., Fridays and Saturdays from 4:30-11 p.m., Sundays 4:30-9 p.m. and closed on Mondays. Weekend brunch is available on Saturdays and Sundays from 10 a.m. to 3 p.m.
Facebook Comments