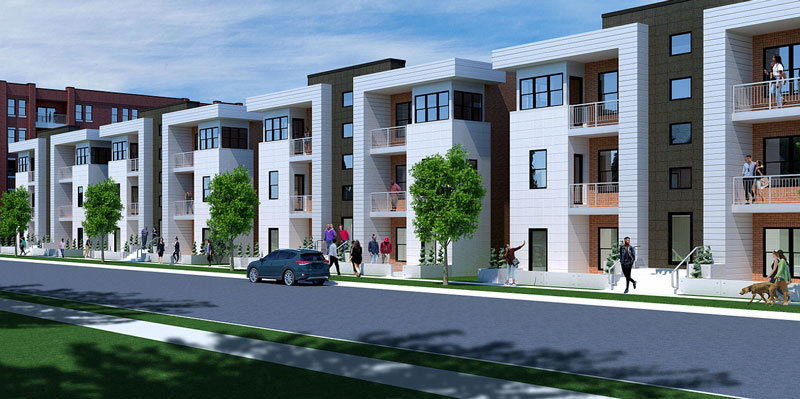 Nailah, a historic and new residential and commercial developer, has gained approval by the City of Detroit for a new commercial/residential project called Petit Bateau, located in the Midtown Art Center District of Detroit.
One of the last developable parcels in the Midtown Cultural Center Art District, the Petit Bateau project will be comprised of six buildings and 92 residential units including townhomes, apartments, work/live units, and loft/office spaces. The main level retail can be configured to a tenant's specific needs.
Petit Bateau will be located on Frederick Avenue, between Beaubien and St. Antoine streets. It is directly adjacent to Peck Park, and east of the Detroit Institute of Arts, Wayne State University, and the main campus of the College of Creative Studies.
"With the big push to go 'green,' people want to incorporate sustainable, energy‐efficient, and generally earth‐friendly practices into their daily lives. We felt it was important to bring a commercial and residential development option to the market that incorporates energy‐efficient design and functionality in building an environmentally responsible community," said Julio Bateau, managing member of Nailah.
Design plans take into consideration the rich historical architecture of the adjacent properties as well as the increasingly energized Midtown neighborhood. Petit Bateau will fuse the old with the new, offering traditional and contemporary features which both complement each other, as well as the Midtown community.
Re/Max Commercial Connection is the commercial leasing agent for the property. Ellen Mahoney, owner of the boutique commercial brokerage, added: "We look forward to welcoming new retail and/or office tenants that will complement and enhance all that this project has to offer," says Mahoney.
Susan Leithauser, of Berkshire Hathaway Home Services, The Loft Warehouse, is the exclusive residential listing agent for the project.
Nailah has long been a leader in the restoration and preservation of historic homes within Detroit, especially in its redevelopment of the Historic Art Center District on East Ferry Street.
Distinguishing itself as the firm that "Rebuilds History," Nailah has restored older homes to their former glory and added new construction to the area, while preserving the historic characteristics of the neighborhood in its design implementation.
More information about the location is available at its website.
Facebook Comments