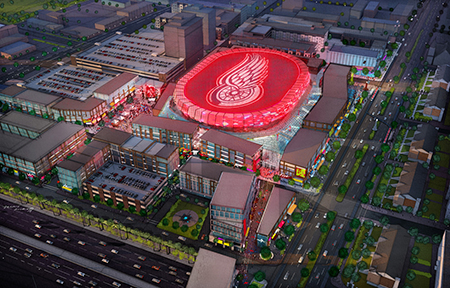 Olympia Development broke ground Thursday on The District Detroit — a sports and entertainment locality connecting Midtown and downtown Detroit — that officials project will create more than 8,000 construction and construction-related jobs.
And with the Illitch family's pledge that at least 51 percent of those jobs will be filled by Detroit residents, combined with the construction under way of the M-1 Rail line, the Detroit Training Center is launching a pre-apprenticeship program to prepare students for careers including electrical, plumbing, and carpentry.
"This is a fantastic opportunity for young people who are excited about working with their hands and getting into a technical occupation," says Patrick Beal, CEO of the center, which opened in 2012. "Now is the time. If they want to be involved in these kinds of projects (like the arena), they've got to start now."
Plans for the arena call for full construction to begin next spring, with the facility to be completed in the summer of 2017. In terms of the district — consisting of five new, mixed used neighborhoods — development will initially focus on areas adjacent to Woodward Avenue, with completion of significant infrastructure improvements and mixed-use development also scheduled for 2017.  
The center's construction pre-apprenticeship training program, set to start Oct. 6, will specifically address issues workers will need in order to pass the tests required to secure an apprenticeship in the workplace. Lectures will cover general construction safety, proper attire, and tool identification.
The eight-week course will also provide a general overview of the construction industry, so that students can make a more informed decision when determining what type of career to pursue. Graduates will earn credentials in first aid, CPR, and work zone safety.
"(Once in an apprenticeship), they would work on many projects — the arena would just be one of them," Beal says. "But it (opens) dramatically more positions than have been available for Detroit residents in a while, so this is one of the best opportunities to come down the pipeline."
The entry-level program costs $3,000, although Beal says that many students can take the class for free based on their qualifications, income, and other factors. "It's designed to be paid for by workforce development agencies and other organizations. If someone is interested, they should come to us so we can tell them where to go for funding opportunities."
Also on the lookout for District Detroit tradesmen is the Detroit Employment Solutions Corp., a Michigan Works! Agency that offers apprenticeship training and other work-readiness programs for those without experience or certifications. The organization will host several information outreach events, including one on Oct. 28 at Cobo Center, where job seekers can connect with potential employers, trainers, community colleges, unions, and other local resources.
"Right now we're trying to find everyone in the city with experience, credentials or both, as well as those interested in skilled trades training," says Pamela Moore, president and CEO of Detroit Employment Solutions Corp. "We have resources and can assist jobseekers in navigating many paths to a career with a living wage, but we need to get people into the pipeline."
For more information about the Detroit Training Center, visit detroittraining.com or call 313-221-5876.
To connect with the Detroit Employment Solutions Corp., visit DESCmiworks.com or call 313-962-9675.
Facebook Comments