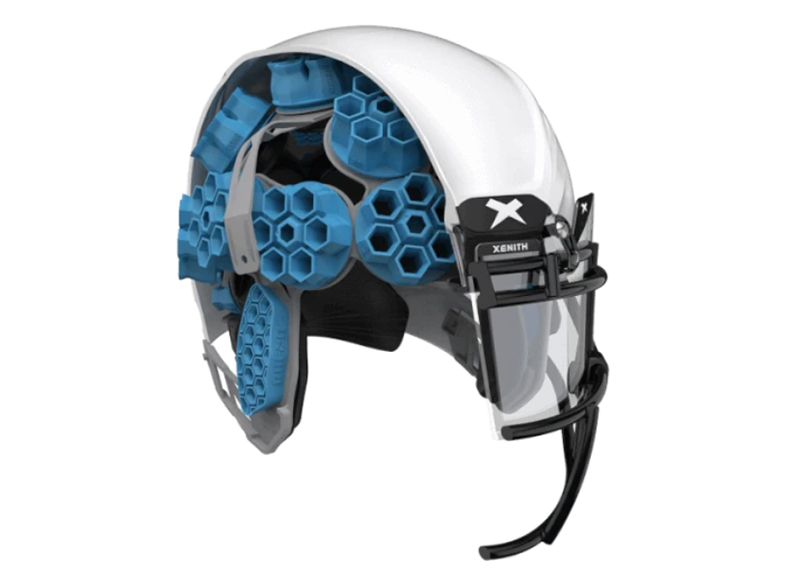 Detroit football helmet manufacturer Xenith has introduced new youth football head gear that it says offers young players the same level of protection as helmets for professionals.
Called the Xenith Shadow XR Youth, the new helmet utilizes the design and premium materials – including shocks featuring Rheon energy control cells – of the Xenith Shadow XR, developed for high school varsity, collegiate, and NFL athletes but tuned specifically for the needs of a youth athlete.
"Ever since the launch of Xenith Shadow, the biggest question we received is when there would be a youth model," says Ryan Sullivan, CEO of Xenith. "We are thrilled to be able to give our customers what they asked for with the top-rated Xenith Shadow XR Youth football helmet. With Shadow XR Youth, we have redefined energy control to deliver the best in Youth athlete protection and performance."
According to Xenith, the Xenith Shadow XR Youth is rated No. 1 on the 2020 Virginia Tech Helmet Ratings, with the Xenith X2E+ being the next available top-rated helmet on the list.
To create Xenith Shadow XR Youth, the company utilized insights from athletes and its Scientific Advisory Board to understand what youth athletes want and need to perform at their best. Xenith collaborated with Rheon to create a unique energy control cell that controls energy for the range of impacts experienced across all levels of youth football. Rheon cells cushion low-speed impacts, but intelligently strengthen for optimal impact performance at high-speeds, the company says. The patented cell geometry was designed to compress and shear to control linear and rotational energy from a variety of impact types.
Thousands of data points were analyzed to develop an improved youth fit for protection and comfort. The low-profile and balanced feel of the helmet is designed to give athletes maximal on-field performance allowing for controlled movement and natural agility.
Xenith Shadow XR Youth's proprietary polymer shell, which is 10 percent lighter than traditional shell materials, also allows for large vents at the front and rear of the shell. This, along with the open architecture of the Xenith matrix, allows cool air to flow over the head and hot air to escape.
Xenith Shadow XR Youth is available for $449 (with titanium facemask) beginning late spring 2020; with team pricing is available.
---