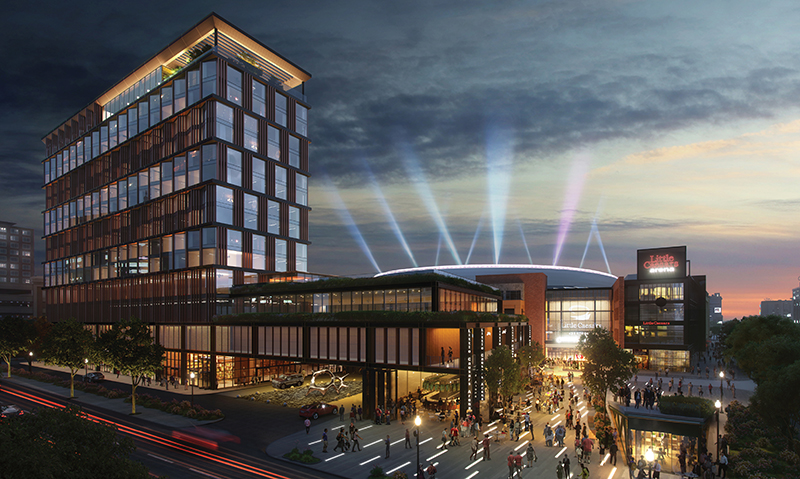 Local residents, guests, and visiting sports teams will have a convenient new luxury hotel at their service when the Equinox hotel is built just south of Little Caesars Arena, and near Comerica Park and Ford Field, homes to all four of Detroit's major sports teams.
Stephen Ross, chairman of New York-based developer Related Cos., presented details about the hotel his company and Olympia Development of Michigan will build during remarks given Wednesday at the Detroit Regional Chamber's Mackinac Policy Conference on Mackinac Island.
Ross and other Related principals, along with a group of investors, own Equinox Group in New York City, a collection of luxury brands that includes Equinox Hotels, Equinox, Precision Run, Blink Fitness, SoulCycle, and more. Overall, the brands have around 300 locations in the U.S. Toronto, Vancouver, and London.
The presentation, which included an artist's rendering of the new Equinox Hotel, was a follow up to Olympia Development's and Related Co.'s recently announced plans for The District Detroit, a 50-block area that includes the stadiums, Fox Theatre, the upcoming headquarters for Huntington Bank, and more.
"It'll be an Equinox hotel with gyms, and all the sports teams will be staying there," Ross says. "There'll be a special floor for them to work out because all four of the major sports are located right there."
In addition to the new hotel on Henry Street, renderings for The District Detroit revealed the site of the Detroit Center for Innovation, a partnership with the University of Michigan, to be located two blocks behind the Fox Theatre; a commercial development on Columbia Street at Woodward Avenue between the Fox Theatre and Little Caesars' new world headquarters; a residential corridor along Park Avenue from I-75 to Grand Circus Park; and new parks and green spaces including a community space over I-75.
According to Ross, the Detroit Center for Innovation has the potential to attract new businesses to the area and help the state retain local college graduates.
"I think it'll probably make Detroit one of the most talked about places in the country," Ross says. "I think there's a time and place for everything, and I think now is the time for Detroit."
Conceptual renderings also show preservation and adaptive reuse of existing historic buildings, new office space, and amenities including restaurants, shopping, and more.
"It'll be very exciting," Ross says. "You'll have the ballpark that you'll be able to look almost into. I don't know if that'll be good for work, but mostly the games are at night so that's probably good."
Details such as cost, size, height, number of rooms, and an opening date will be announced in the coming months.
---