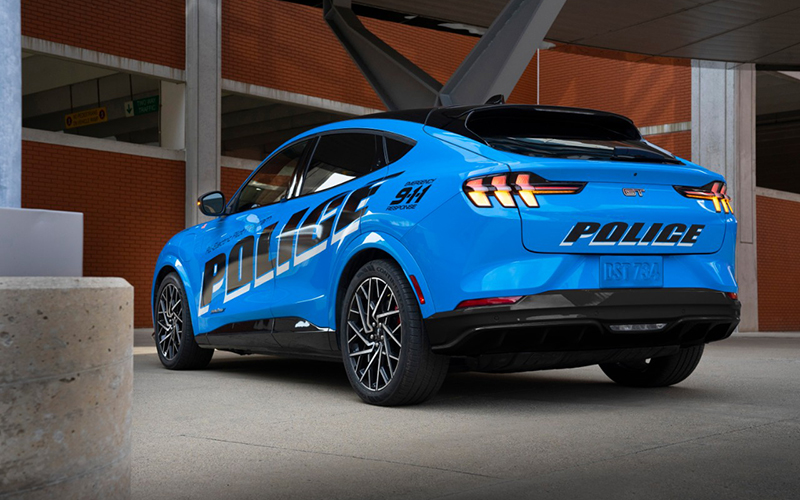 Ford Motor Co. in Dearborn today announced the Mustang Mach-E SUV was the first EV to pass vehicle testing by the Michigan State Police (MSP).
"The fact that the Mustang Mach-E successfully stood up to the grueling Michigan State Police evaluation demonstrates that Ford can build electric vehicles that are capable, tough, and reliable enough for even the most challenging jobs," said Ted Cannis, CEO of Ford Pro. "We understand the needs of our commercial customers and are committed to unlocking new electrification opportunities for them."
Ford submitted the all-electric police pilot vehicle for testing in the MSP 2022 model year evaluation from Sept. 18-20. The MSP will publish the results for vehicles tested on its websites later in the fall. It is one of two law enforcement agencies that annually tests new model year police vehicles and publish results for use by agencies nationwide.
Testing included measurements of acceleration, top speed, braking, high-speed pursuit, as well as emergency response handling characteristics. The initial concept is a demonstrator Mustang Mach-E Standard Range AWD (all-wheel drive).
Subject to testing of this model, Ford is planning to offer an extended range version of its rear-wheel drive and AWD models. The extended battery types would give the police even greater range, and therefore versatility and capability, for police operations.
Instant and super-quick acceleration — the new Mach-E is capable of 0-60 mph in 3.7 seconds (GT version) and 111 mph top speed — is an asset for any police car, while the all-electric Mach-E will offer the forces one of the most economical and environmentally-friendly cars in fleets. The automaker states it is capable of 379 miles of range between full charges.