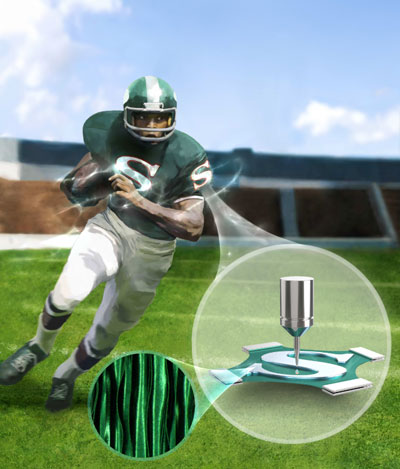 A team of researchers at Michigan State University in East Lansing have created stretchable energy-storage devices using a specialized printing technology and innovative materials. The work is designed to impact applications in wearable technology.
Malleable energy devices will help existing wearable technologies such as smart watches become more flexible, comfortable, and reliable.
Changyong Cao, who leads the team and is director of MSU's Soft Machines and Electronics Laboratory, sees other opportunities for the technology: for example, smart textiles that monitor athletes' vital signs during games, electronic skins to restore some sense of touch for people using prosthetics, and smart implants that can track patient health.
"For implantable devices, you need electronics that can be integrated with soft tissue and accommodate the motion of the body," says Cao, who is also an assistant professor at MSU's School of Packaging and the departments of mechanical engineering as well as electrical and computer engineering.
Cao's team also is working on what he calls "plant wearables," which are sensors for crops that can stretch and bend as the plants grow and move.
"Plants change their orientation and shape over 24 hours' time, even without wind or environment variation," Cao says. "It's very surprising and interesting, so we are eager to develop sensors that can accommodate the varying growth conditions."
To power the devices, the team is creating harvesters, or electronic devices that convert the energy of motion into electricity. This summer, Cao led a team that built sensors to detect forest fires that could be powered by the wind. The sensors would let rangers monitor large areas of forest without having to replace or recharge batteries.
A key part of energy-harvesting circuits is a component known as a supercapacitor, which uses electrochemistry to charge and discharge like batteries, but much faster.
The team has developed a method to create supercapacitors using a method called 4-D printing, or the creation of 3-D structures that change over time. The team reported its work online in December in the journal Advanced Materials Technology.
To create the technology, researchers used an aerosol jet printer to deposit a specially formulated ink onto a stretchable polymer substrate. These printed materials form the basis of the stretchy supercapacitors due to two innovators.
First, the ink features a blend of conductive carbon materials to meet electromechanical and mechanical properties. It contains nanoscopic tubules of carbon and extremely thin sheets of carbon known as reduced graphene oxide.
The second innovation is a form of scientific origami: when ink dries into a wrinkled, accordion-like pattern, it helps the material remain stretchy over its lifetime.
To achieve the wrinkled pattern, the team stretched out its polymer substrate and printed the ink onto it. When the ink dried, the researchers released the substrate and allowed it to relax to its initial shape, folding the printed films into the pattern.
The work was partially supported by the National Science Foundation and the U.S. Department of Agriculture, National Institute of Food and Agriculture.