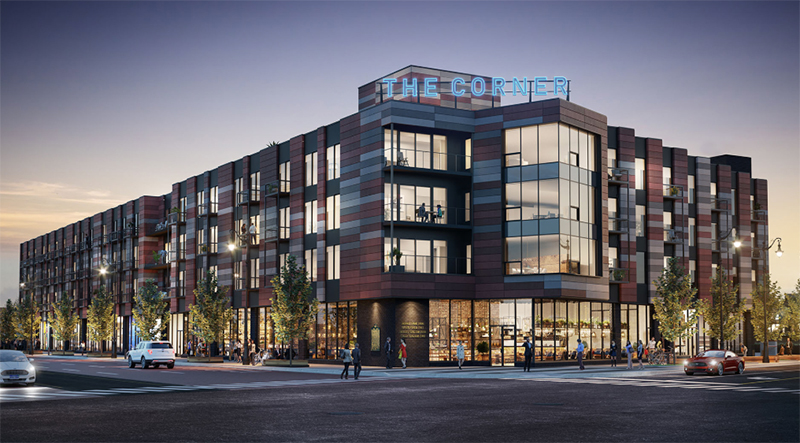 The Corner, a mixed-use development located at the corner of Michigan Avenue and Trumbull Street in Detroit's Corktown neighborhood, site of the former Tiger Stadium, is set to open its doors for residents starting in early July.
The opening comes a year after breaking ground. The modular design used on the site is one of the first in the region. The process allows the residential units to be constructed offsite while the retail podium is constructed onsite, a method that expedites the construction process.
The residential development is led by the Larson Realty Group of Bloomfield Hills. The mixed-use development will have 111 residential units on the second and third floors, including studio apartments and one- and two-bedroom units overlooking the historic baseball field that now is the property of the Detroit Police Athletic League. The majority of the housing units already have been leased.
The main level of the project offers 27,000 square feet of retail space along Michigan Avenue, providing community-focused amenities for the expanding market.
"The Corner is emblematic of a thriving community where local businesses and residents are uniquely intertwined to present a distinct energy throughout Corktown," says Eric Larson, president, CEO, and founder of Larson Realty Group. "This building is the vision of many committed parties, and its presence is a major guidepost in bringing greater residential availability throughout Detroit's exceptional communities."
Property management on site is provided by Southfield-based Village Green.
"From the design through the resident experience, this property will bring the best of Detroit to one of its most iconic boulevards," says Diane Batayeh, CEO of Village Green.
Facebook Comments