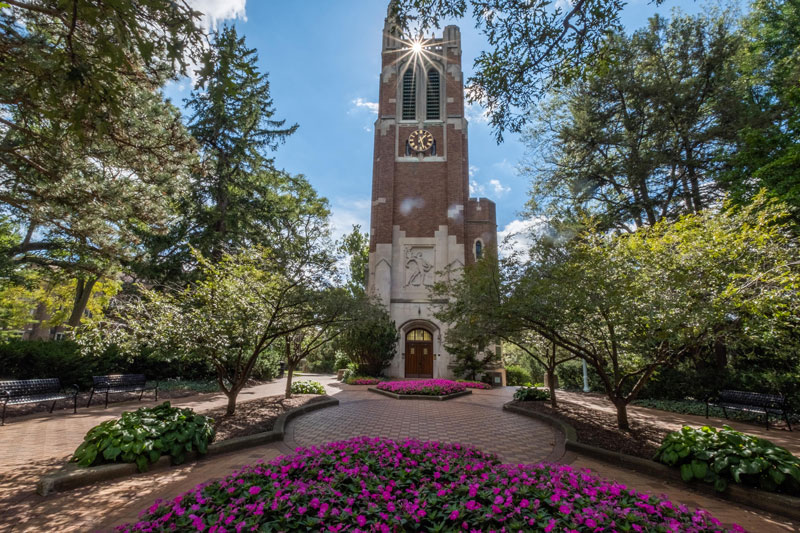 Michigan State University in East Lansing raised a record $284.4 million in cash and gift commitments during the 2022 fiscal year, outdoing MSU's previous fundraising record of $272.6 million from 2019, and topping last year's total of $232 million.
More than 170,000 individual gifts were given to support the university's state priorities to expand opportunities, advance equity, elevate excellence, and strengthen the community. Donors made more investments in support of students and faculty than any prior year.
"We're grateful to Spartans and friends for so generously supporting the success of our students, faculty, and staff," says Dr. Samuel L. Stanley Jr., president of MSU. "Our community is investing in us like never before, growing the university's capacity to pursue goals identified in the MSU 2030 strategic plan for expanding our excellence and impact."
MSU alumni led the way with a 26.6 percent increase in giving from the previous year, contributing $122.5 million of the total. Nearly 9,700 individuals contributed to MSU for their first time, making up approximately 14% of the total donors.
More than 81 percent of all dollars raised came from 344 donors who made gifts of $100,000 or more. The largest gift, totaling $17 million, came from alumnus Martin Vanderploeg to create an undergraduate scholars' program for first-generation students and to support endowed faculty positions in engineering.
Of the total raised, more than $251 million already has been received and made available for current operations and capital purposes to support strategic priorities such as:
Increasing opportunities for students by creating new and increasing investments in endowed scholarship funds.
Enabling faculty excellence through investments in endowed positions.
Aiding innovative efforts and partnerships to reduce health disparities.
Gifts from foundations also were up, increasing by 25.5 percent to more than $74.6. million in support. Notably, the Charles Stewart Mott Foundation awarded grants, totaling $25 million, to support public health faculty, academic research, and community health collaborations in Flint.
"Private philanthropy fuels MSU's innovation, success of our students, and impact in the community," says Kim Tobin, vice president for university advancement at MSU. "Our donors support the university's mission in many ways, and the success of faculty and students wouldn't be possible without the generosity of the entire Spartan community."
In all, there were 48 gifts of a million dollars or more, totaling $157 million. Million-dollar gifts in fiscal year 2019 brought in $143 million, making this year's total the largest from million-dollar commitments MSU has ever received.
Facebook Comments