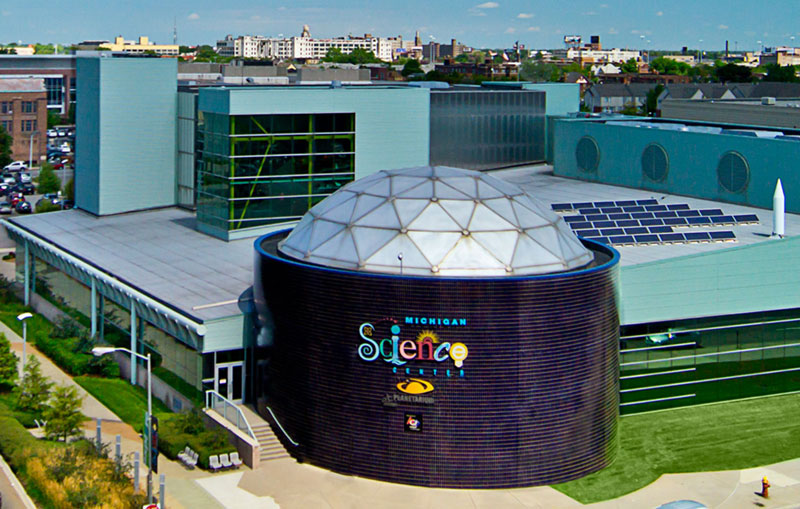 The Michigan Science Center in Detroit has been designated a Smithsonian Affiliate. It is now part of a national network of science centers, museums, and cultural organizations sharing the resources of the Smithsonian Institution in Washington, D.C.
The center is the only Detroit nonprofit with this distinction. There are more than 200 Smithsonian Affiliates in nearly every state, Puerto Rico, and Panama of different sizes that highlight different subject matter.
"This affiliation with the Smithsonian Institution is a big deal for MiSci and Detroit," says Christian Greer, president and CEO of the center. "In many ways, it celebrates the tremendous improvements we have made over the course of the pandemic. New high-quality STEM programs and exhibit experiences for students, teachers, families, and communities await.
"Being the only Smithsonian Affiliate in Detroit gives us an added responsibility to connect with other affiliates across the state and beyond to share best."
Affiliates have the right to use a Smithsonian logo and offer a two-in-one membership for the affiliate organization and Smithsonian membership. Affiliates also can take advantage of professional development opportunities and special grant-funded projects with the Smithsonian.
"We are delighted MiSci applied to become a Smithsonian Affiliate," says Myriam Springuel, director of Smithsonian Institution traveling exhibition service and Smithsonian Affiliations. "Throughout the rigorous application process, it was clear that MiSci had thoughtfully considered the many ways in which our organizations could collaborate to enrich the Detroit community with educational programming and exhibitions.
"We pay attention to many factors during the review process, including the organization's capacity and interest to work with the Smithsonian and if there are other Affiliates in that community. While we have nearby Affiliates, MiSci will be our first Affiliate in midtown Detroit, and only science center in Michigan in association with the Smithsonian."
Smithsonian Affiliates were created in 1996. The national outreach program develops long-term collaborative partnerships that share Smithsonian collections, builds collaborative networks, and engages learners with Smithsonian resources.
Nearly 250,000 people each year visit the Michigan Science Center, which offers science, technology, engineering, and math, each year. It also offers a traveling science program and distance learning.
Facebook Comments