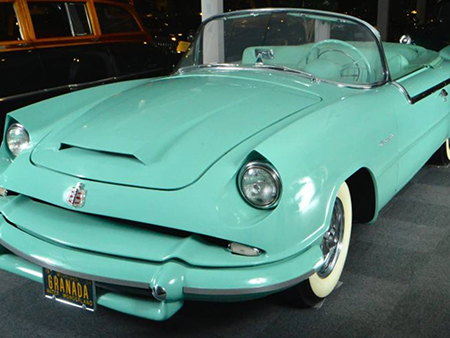 The Mitchell Car Museum in Owosso, northeast of Lansing, is preparing to auction nearly 30 collector cars — including the only existing 1954 Dodge Granada concept car — in late August.
The auction follows the recent death of Bill Mitchell, who founded the museum in 1991 as a tribute to his father, Don Mitchell, the former president of Mitchell-Bentley Corp., an automotive trim shop that built the bodies for many of the early Chevrolet Corvettes, along with certain Lincoln Continental bodies.
Other cars in the collection include a 1957 Lincoln Continental MK II, one of 444 produced; a 1904 Mitchell B2 Runabout, the only air-cooled Mitchell of this vintage known to exist; and a 1948 Pontiac Streamliner Wagon, the last true Woody Wagon produced by Pontiac.
"We are honored to partner with the Mitchell Car Museum and Mitchell estate to share this impressive collection with auto enthusiasts and aficionados across the country," says Troy Crowe, auctioneer at Mason-based Sheridan Realty and Auction Co.
Previews and inspections will be held on Aug. 5 and 19 at the Mitchell Car Museum. The auction, with online simulcast bidding, will kick off at 10 a.m. on Aug. 20 at the Baker College Welcome Center in Owosso.
To view current bids and the full list items, click here.
IN OTHER COLLECTOR CAR NEWS, the top seller at RM Auctions' Motor City sale, held last Saturday in Plymouth, was the 1911 Mercedes 38/70HP Seven-Passenger Touring, which sold for $495,000. In total, the event posted $7.4 million in sales.
"In addition to featuring many vehicles that were built and conceived in Detroit, we were pleased to expand the scope of the sale this year to include more European classics, which found ready buyers," says Mike Fairbairn, specialist at RM Auctions. Not all of the vehicles listed were sold, however.
Following the 1911 Mercedes, other top sellers included:
• 1953 Rolls-Royce Silver Dawn Drophead Coupe – $352,000
• 1906 Studebaker Model G Touring – $275,000
• 1930 Gar Wood 28' Triple Cockpit Runabout "Katie's Choice" – $275,000
• 1925 Duesenberg Model A Touring – $264,000
• 1925 Renault Model 45 Tourer – $264,000
To read the full results from the Motor City sale, click here.
---