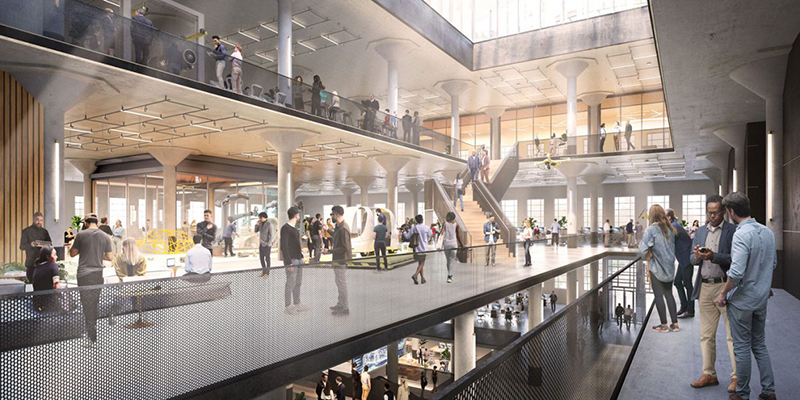 Michigan Central, the former train station and surrounding land that Ford Motor Co. is developing into an emerging mobility innovation campus in Detroit's Corktown neighborhood, today announced an expansion of its partnership with Newlab.
In a bid to grow and give a home to the mobility innovation ecosystem, operations will be centered at the historic Book Depository building, set to fully open this spring. The Book Depository, originally the Roosevelt Warehouse, is located just east of the historic former Michigan Central train station at Michigan Avenue and 14th Street.
Together, Michigan Central and Newlab officials state they will accelerate the development of new sustainable and equitable solutions to the most pressing challenges at the intersection of mobility and society.
Michigan Central and Newlab collaborated on the design and programming of the Book Depository building, which will serve as Newlab's Detroit headquarters.
The building will be home to dozens of entrepreneurs and inventors from multiple companies creating next-generation mobility solutions to advance areas like electrification and aerial technology. The space will include dedicated workspaces and prototyping labs to accelerate applied R&D and collaboration.
The reimagined Book Depository building will be the first major building to open at Michigan Central, which is part of a 30-acre site nestled between the Corktown and southwest Detroit neighborhoods and anchored by Michigan Central.
"When we increase access to mobility, we increase equity in access to goods and services, and to job opportunities for everyone," says Joshua Sirefman, CEO of Michigan Central. "The future of transportation — from autonomous and electric vehicles to innovations in mass transit and logistics — is already here.
"We need the infrastructure to make sure we develop the next generation of solutions to critical challenges across mobility and society in an equitable and sustainable way. Newlab has shown what can happen when a community of entrepreneurs and inventors comes together to tackle real problems with real solutions."
Newlab states it has developed an expertise in creating the conditions for world-changing ideas to become real-world solutions. All of Newlab's activity globally is organized through three Studios — Mobility, Energy, and Materials — and Michigan Central is the physical anchor point for Newlab's Mobility Studio.
Newlab will work with an ecosystem of early-stage companies, industry partners, investors, and government leaders and deploy its membership-based model at the Book Depository building. Several companies, including Airspace Link, Canopy, Grounded, wheel.me, and Cavnue, have joined the Newlab community at Michigan Central.
"Detroit and Michigan Central had all the factors we were looking for in our first expansion: a shared ethos, physical assets to enable real-world experimentation, a geography that is poised for significant growth, and a local hard-tech product development talent base that is second to none globally," says Alisyn Malek, managing director of Newlab Detroit who was born in Michigan and previously lived in the Motor City.
Over the next several years, Michigan Central and Newlab state they will jointly launch a portfolio of projects aimed at addressing discrete "Challenges" and to be executed through Newlab's Mobility Studio. Each Challenge will serve as an organizing principle for new technology pilots, grounded in real-world mobility problems related to sustainability, logistics, and equity.
"Our work with Newlab, which began in 2020 with the Accessible Streets and Mobility Studios, has successfully piloted numerous mobility technologies in, and for, the people of Detroit," says Carolina Pluszczynski, COO of Michigan Central.
"As we've continued redeveloping the Michigan Central site and building our larger mobility innovation ecosystem, the transformative potential of our partnership with Newlab … it was clear that fortifying this impactful collaboration is key to realizing our shared aims of enhancing accessibility and equity in Detroit and around the world."
To support its continued growth and impact, Michigan Central counts Ford and Google as key founding partners. As part of this work, Google will also collaborate with Newlab, pairing Newlab entrepreneurs with multi-disciplined Google volunteers to bring the best of Google to startups as they grow at Michigan Central.
Launching this year, this program aims to provide entrepreneurs with expertise, resources, and support across areas such as program management, software development, cloud architecture, AI and machine learning, go-to-market strategy, and sales and marketing.
The grand opening of the Book Depository building will take place this spring, and will be an opportunity to experience the building design and celebrate the innovative work underway at Michigan Central.
For more information about Michigan Central and the Book Depository, visit here.
Facebook Comments